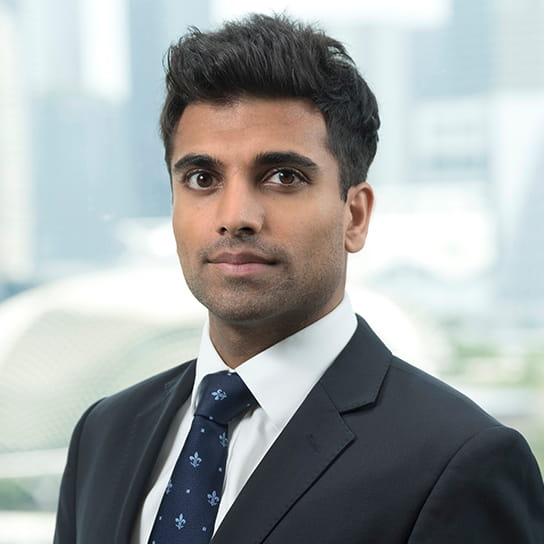 Khushaal displays authority beyond his years, he is very clear in his thought process and good with communication.

Chambers Asia-Pacific, 2023
Recognised as clients' "go-to resource in the region", Kush is recommended by Chambers Asia-Pacific and Asian Legal Business as a Rising Star with "authority beyond his years".  
Kush leads internal and government investigations for clients across Asia Pacific. Kush has led investigations from the Singapore office for six years, and has prior experience at Hogan Lovells' London and Washington, D.C. offices. Kush is dual qualified in England and Wales and California. Kush is able to provide local nuance to international issues.
Kush counsels clients on preventative and reactive compliance; from dawn raids and policies and procedure preparedness to whistleblower complaints and regulatory reports. He deescalates crises, advises on international trade, sanctions and export controls and resolves clashes within the workplace.  
Kush uniquely has multi-FCPA case experience, and leads these matters from Asia, with experience of multiple representations in front of numerous regulators including importantly the U.S. Department of Justice, SEC, SFO, AGC, CPIB, MAS and KPK.  
From a sensitive situation in India, to an incident in Indonesia, or a vexing topic in Vietnam, and everywhere in between, Kush has multijurisdictional experience; and is responsive, seeking to minimise disruption and offer you a strategic solution.
Kush also leads the Pro Bono efforts of the Singapore office, with his work recently on environmental conservation deploying blockchain technology recognised by Thomson Reuters who nominated him from a global cohort as their TrustLaw Lawyer of the Year.
Khushaal Ved is an up-and-coming individual in the space; he is very dynamic, responsive and gives timely, pragmatic advice that is commercially minded.

Chambers Asia-Pacific, 2023
Representative experience
Counsel to a leading telecoms client in a U.S. FCPA cross-border investigation and disclosure of commercial bribery in the Philippines; achieved a double declination from the DOJ and SEC.
Leading a U.S. DOJ and SEC FCPA investigation and disclosure in the life sciences sector in Asia-Pacific.
Advising on whistleblower report responses in India, Singapore and South Korea for a global medical technology corporation.
Counsel to an international hospitality and gaming entity with a regulatory investigation spanning five jurisdictions: Singapore, Macau, Hong Kong, Thailand and the U.S.
Advising a global trust services provider on multi-jurisdictional regulatory enquiries across Asia-Pacific and the U.S.
Counsel to a Singapore-headquartered commodities trading company in connection with an investigation by the FBI and U.S. DOJ for alleged sanctions violations, regulator raids and money laundering.
Counsel to a Big 4 audit, tax and advisory firm with a PCAOB investigation in relation to its Singapore operations.
Counsel to a global financial institution on a KPK investigation relating to a USD 2 billion financing to an Indonesian conglomerate group.
Acting for a French financial institution in responding to multijurisdictional regulatory data requests, and in limiting and focusing productions.
Conducting an internal and regulatory investigation for a listed Singapore company into allegations of corrupt payments to government officials in Brazil, in connection with "Operation Car Wash".
Counsel to one of the world's largest pharmaceutical companies with respect to an internal investigation and crisis leadership in India.
Conducting internal investigations for a leading Vietnamese manufacturing company into alleged bribery, corruption, employment and customs compliance issues in Vietnam.
Advising an Indonesian energy JV in relation to an internal investigation concerning allegations of government corruption, in a USD 1 billion project and a KPK investigation.
Assisting a leading Chinese technology company with addressing ABC and compliance issues with compliance staffing support, modern slavery and ESG considerations, and risk for new business lines.
Counsel to a U.S.-headquartered automotive giant on their global compliance and risk assessment.
Advising Wildchain on staffing, and on compliance with the laws and regulations of Singapore relating to payment services, blockchain technology and digital tokens.
Advising a Japanese trading company on FCPA, regulatory and commercial risks in relation to a JV infrastructure project in excess of USD 2 billion in Bangladesh.
Advising a Japanese trading company on the proposed USD 1 billion acquisition of an international, French-headquartered leading diversified industrials distributor.
Advising a U.S.-headquartered company with U.S. and Singapore export controls, trade compliance and customer relationships.
Lead contact for the United Nations on multiple initiatives including their cross-collaboration on tackling bribery and corruption in sport with the IOC, and their fight against corruption platform.
Education
Legal Practice Course, BPP University Law School, With Commendation, 2015
Graduate Diploma in Law, BPP University, With Distinction, 2014
MSc. Criminology and Criminal Justice, Green Templeton College, University of Oxford, 2013
MA Geography, Jesus College, University of Oxford, 2012
Bar admissions and qualifications
Law Society of England and Wales
California
Memberships
The Law Society of England and Wales
Young Fraud Lawyers Association
Beverly Hills Bar Association
ALB Singapore Rising Stars
Asian Legal Business
2022
Associate to Watch - Corporate Investigations/Anti-Corruption: International
Chambers Asia-Pacific
2023
Press releases
08 May 2023
Press releases
12 August 2022
Awards & rankings
12 November 2021