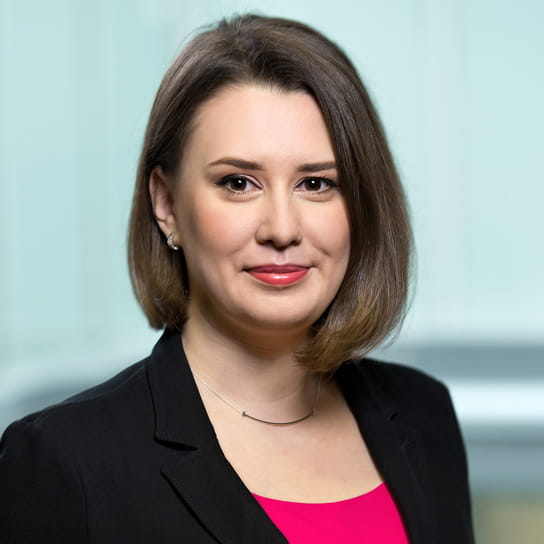 Alla Gorbushina
AssociateMoscow
Alla Gorbushina is an associate of the IP, Media and Technology Practice Group of the Moscow office of Hogan Lovells. Alla regularly advises on all aspects of contentious and non-contentious IP matters, particularly in the areas of enforcement of copyright, rights to trademarks and trade secrets, protection of confidential information and domain name disputes. She also specializes on transactions involving intellectual property and information technology, such as licensing, including franchising, research and development and other agreements.
She has extensive experience in advising on data protection and privacy issues, in particular conducting legal audits for compliance, advising on data transfer strategies and representing the clients before Russian Data Protection Office. Her practice also focuses on wide range of various TMT matters, including TMT regulatory issues, e-commerce, marketing and advertising issues and consumers' protection.
Alla has worked with a large range of clients across a number of industries, in particular, automotive, consumer, media and entertainment, pharmaceutical, telecommunications, e-commerce, machinery and finance, IT and software.
Alla also has experience acting as in-house legal counsel being seconded to a Moscow office of one of the major e-commerce companies.
Education and admissions
Education
The Higher School of Economics, 2010
Representative experience
Advising Bayer in relation to termination of trademark and firm name infringements on Internet and unfair competition matters.
Advising CATERPILLAR group on various trademark related matters, including fighting counterfeit and trademark infringements on Internet.
Advising eBay on recovering of infringing third party domain names and termination of online trademark infringements, as well as e-commerce and advertising regulations.
Advising Google on data protection issues and telecommunication regulations.
Advising LEGO group in relation to various trademark and copyright infringement issues in Russia and Belarus.
Advising McDonald's Corporation in relation to protection of rights to trademarks in Russia and CIS countries, including fighting IP infringements on Internet.
Advising PayPal on various personal data protection issues.
Advising Tetra Pak group on intra-group trademark licensing in Russia and CIS-countries, as well various regulatory issues.