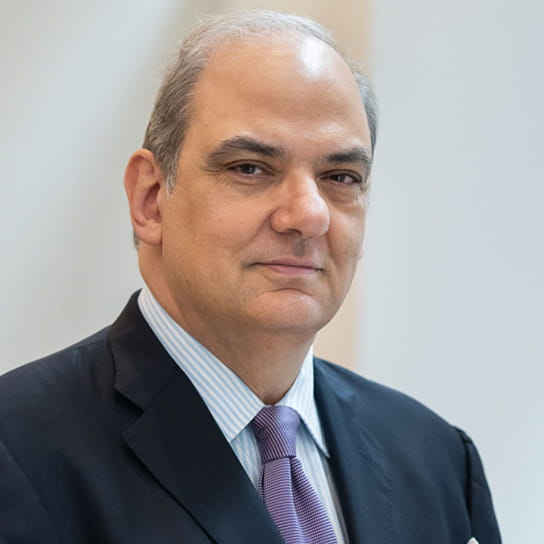 Emil Arca is a core member of the Latin America team and is a leader in structured finance and securitisation transactions, especially diversified payments rights securitisations.

Legal 500 Latin America 2023
Emil Arca is a partner in the firm's global Capital Markets leadership team. He represents underwriters, placement agents, issuers, investors, lenders, borrowers, and insurers in debt capital markets, banking, and restructuring transactions in the United States and around the world, particularly in emerging markets. Originating in two dozen countries and involving diverse industries, many of the transactions were the first of their type involving a particular structure, asset type, or country.
Since 2001, Emil has had 11 transactions earn 23 "Deal of the Year" awards or other prominent recognitions. You may recognize a few of the honors: "Structured Finance and Securitisation Deal of the Year" for the Americas (IFLR, 2020); Financing Innovation of the Year and Structured Finance Deal of the Year (LatinFinance, 2014); Corporate Finance Deal of the Year (Latin Lawyer, 2014); commendations in the Financial Times 2019 and 2012 North American Innovative Lawyers awards; and Latin American Deal of the Year (Euromoney, 2010).
In emerging markets, Emil has worked with structured finance transactions backed by operating assets (airports, drill ships, mines, and toll roads); future flow assets (airline tickets, credit card merchant vouchers, diversified payment rights, export receivables, oil royalties, remittances, and telephone receivables); and existing financial assets (commercial real estate leases, construction loans, residential mortgage loans, telephone receivables, trade receivables and vehicle loans and leases).
He has worked on U.S. securitization transactions backed by auto loans, equipment leases (aircraft, railcars, and small-ticket equipment), film distribution rights payments, franchise loans, health care receivables, insurance premium finance loans, merchandise royalties, mortgage loans (commercial, multi-family, and residential properties), natural resource rights payments, nonperforming assets, royalties, small business loans, and trade receivables.
Emil Arca of Hogan Lovells has a solid practice representing underwriters, issuers, and insurers in debt capital markets transactions. He is recognized for his ability to handle both conventional and structured financial products.

Chambers Global 2019
Representative experience
Representation of the underwriters in the establishment of and first, second, and third offerings from the Rio Oil Finance Trust.
Representation of Banco Industrial in its senior and subordinated unsecured debt offerings
Representation of the underwriters in two securitizations of revenues of toll roads in Panama to enable the government to reacquire the concessions.
Representation of National Commercial Bank Jamaica in its merchant voucher receivables securitization program.
Education
J.D., University of Michigan Law School, 1985
B.A., University of Michigan, 1982
Bar admissions and qualifications
International Firms: Capital Markets, Leading Individual
Legal 500 Latin America
2024
International Firms: Capital Markets, Recommended
Legal 500 Latin America
2018-2024
Finance: Capital Markets: Global Offerings, Recommended
Legal 500 US
2021-2023
International Firms: Banking and Finance, Recommended
Legal 500 Latin America
2018, 2022-2023
Latin America's Top 100 Lawyers: Capital Markets; Banking & Finance
Latinvex
2017-2023
Best of the Best USA (Structured Finance and Securitisation)
Euromoney's Legal Media Expert Guide
2013-2022
Structured Finance MVP
Law360
2020
Project Finance Practice Group of the Year
Law360
2012
Press releases
28 September 2023
Awards & rankings
21 May 2023
Press releases
01 September 2022
View more press releases
Sponsorships and Speaking Engagements
30 November – 1 December 2021
View more events