J. Warren Gorrell, Jr.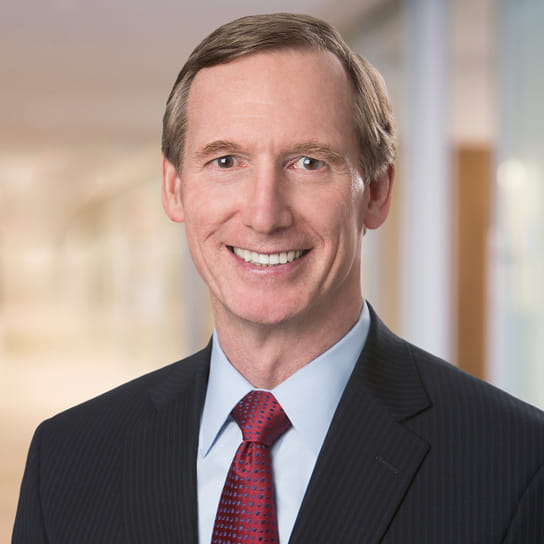 Warren Gorrell has led many of the largest and most complex M&A transactions and IPOs involving REITs and other real estate companies over the last 30 years. In addition to his full-time M&A and corporate finance practice, he serves as our CEO Emeritus, having previously led us as Chairman and then Co-CEO for almost 15 years. He is one of the few law firm leaders to have maintained an active practice while leading a major firm.
Warren advises owners of office, retail, multifamily and industrial properties, hotels, and storage and data centers. He also advises major investment banking firms as underwriters in IPOs and other capital markets transactions and as financial advisers in M&A transactions. Warren also helps clients on other complex cross-border transactions in the real estate, energy, and technology industries.
Warren is active in acquisitions and business combinations of all types — mergers, stock purchases, asset purchases, partnership rollups and operating partnership unit transactions (both public and private), leveraged buyouts, and tender offers. He structures joint venture arrangements for the acquisition of individual properties, portfolios, and entire companies. He represents both issuers and underwriters in IPOs and other public offerings and private placements of equity and debt securities, reorganizations, and recapitalizations.
Warren has been named as one of the 100 most influential lawyers in America (The National Law Journal, 2013 and 2006) and is recognized as one of the leading M&A and corporate lawyers in the United States and Washington, D.C. by leading legal rating services (Chambers, Legal 500, Guide to the World's Leading Lawyers, Best Lawyers in America, and Legal Times). In 1999, The American Lawyer recognized him as a Dealmaker of the Year for leading the team that restructured Host Marriott from a C Corp into a REIT.
"Warren Gorrell is known as a 'powerhouse' lawyer who is recognized for his work in the real estate and hospitality sectors, with REIT matters a particular forte."
"According to sources, Warren Gorrell has a 'sterling reputation as one of the best lawyers in D.C.'"
Representative Experience
Advised General Electric on its US$27bn sale of its global real estate equity and debt portfolio to Blackstone and Wells Fargo.
Advised Archstone-Smith on its US$22bn acquisition by Tishman Speyer and Lehman Brothers.
Advised Equity Residential on its US$16bn acquisition with AvalonBay of Archstone from Lehman Holdings and a related joint venture with AvalonBay.
Advised Home Properties on its US$7.6bn acquisition by Lone Star Funds and a related US$2bn DownREIT transaction with UDR.
Represented the issuer or the underwriters in the three largest REIT IPOs in history (Paramount Group, Douglas Emmett and Empire State).
Represented the issuers in several other REIT IPOs, including Equity Office, Smith Residential, Colony, CarrAmerica, Colonial, U-Store-It, and Paragon.
Represented the underwriters in several other REIT IPOs, including Mills, Crescent, Arden, Dupont Fabros, Heritage, Extra Space, and Post.
Advising Unisplendour on its pending US$3.8bn acquisition of a 15% stake in Western Digital.
Advised Host Marriott in its conversion from a C Corp into a REIT and its concurrent US$4bn public and private hotel portfolio.
Advised Trizec on its US$8.9bn acquisition by Brookfield Properties and Blackstone.
Advising General Electric on its US$8.5bn sale of its healthcare financing business to Capital One.
Advised Equity Office on its US$7.2bn stock-for stock acquisition of Spieker.
Advised New Plan Excel on its US6.2bn acquisition by Centro.
Advised CarrAmerica on its US$5.6bn acquisition by Blackstone.
Advised Equity Office on its US$5.2bn stock-for-stock acquisition of Beacon.
Advised Equity Office on its US$4.6bn stock-for-stock acquisition of Cornerstone.
Advised Trizec in its participation with General Electric in the US$3.8bn acquisition of Arden.
1999
Dealmaker of the Year
The American Lawyer
2006
D.C. Leading Lawyers: Top 10 Deal-Maker
Legal Times
2010-2011
Chambers Global, USA: Investment Funds: REITs
2004-2011
Guide to the World's Leading Mergers and Acquisitions Lawyers
2007-2014
Mergers and acquisitions
Washington, D.C. Super Lawyers
2008, 2010-2013
Corporate Law and Securities Law
The Best Lawyers in America
April,17,2015
Dealmaker of the Week
The American Lawyer
2006, 2013
The 100 Most Influential Lawyers in America
The National Law Journal
2014
Mergers, Acquisitions and Buyouts, "Leading Lawyers," 2007-2008, 2011-2013; Real Estate Investment Trusts, "Leading Lawyers," 2008-2014; Investment Fund Formation and Management - Real Estate Trusts, Leading Lawyers," 2013
Legal 500 US
2002-2014
Chambers USA, First Tier Ranking in Corporate/M&A and Private Equity, 2002-2014; Capital Markets: REITs: National, 2007-2014
Latest thinking and events
Hogan Lovells Publications
SEC Update
Hogan Lovells Publications
Government Relations Alert
Hogan Lovells Events
10 January 2013

Sponsorships and Speaking Engagements
13 January 2011
New York, United States
Published Works
SEC Proposes Shorter Deadlines for Periodic Reports, Company Disclosure of Insider Transactions, and Website Access to Company Reports