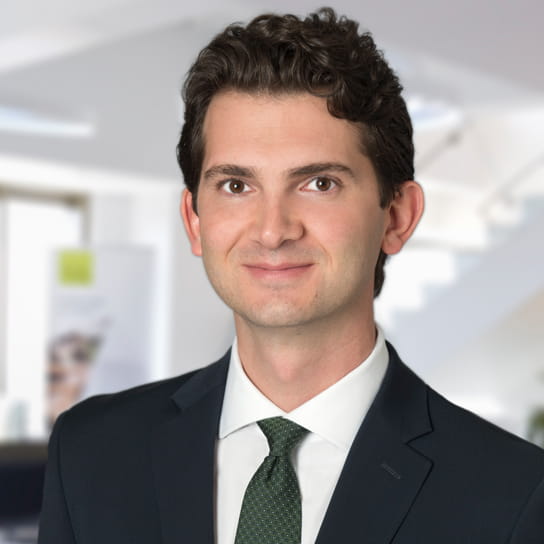 Jordan Teti represents clients in complex litigation matters and investigations, with a focus on securities, life sciences, and health care industries. Jordan's training in corporate finance and his litigation experience relating to complex financial transactions make him especially adept in advising on valuation and asset sales disputes.
A graduate of Stanford Law School, Jordan received the Hilmer Oehlmann, Jr. Award for Outstanding Performance in Federal Litigation and served as a teaching assistant for the course. He was Associate Editor of the Stanford Law & Policy Review and an Executive Editor of the Harvard Journal of Law & Public Policy's National Symposium issue. Jordan received his A.B. from Harvard College, summa cum laude with highest honors, in Government, where he received a number of awards for writing and scholarship.
At Hogan Lovells, Jordan is a leader in the Los Angeles office, serving on the recruiting and summer program committees and hosting the office's Conversations with Hispanic Lawyers event in 2018 and 2019. His writing has been published in Corporate Counsel and the Journal of Business & Securities Law.
As the former founder of a media technology startup, Jordan has substantial experience in the venture capital, technology, and media industries. Before joining Hogan Lovells, he was an associate at a large international law firm based in Los Angeles and a summer analyst in the Investment Management Division of Goldman Sachs.
Jordan is a member of the Pacific Council on International Policy, and he was a Rising Fellow at Stanford's Hoover Institution and a Publius Fellow at the Claremont Institute. Jordan currently is a Fellow of the Center for Thomas More Studies, bringing together lawyers, jurists, and scholars around the world to advance scholarship on the writings and life of Thomas More. With a passion for celebrating classical music in local communities, he serves on the Board of Directors of the Santa Monica Symphony.
Education and admissions
Education
J.D., Stanford Law School, 2012
A.B., Harvard College, summa cum laude, highest honors, 2008
Bar admissions and qualifications
California
Court admissions
U.S. District Court, Central District of California
U.S. Court of Appeals, Ninth Circuit
U.S. District Court, Western District of New York
Representative experience
Representing health plan in False Claims Act matter in federal district court relating to risk adjustment and the Medicare Advantage program.
Represented health plan in arbitrations, including an evidentiary hearing, against non-participating out-of-network providers relating to reasonable value of services.
Won dismissal of putative securities class action filed against life sciences investment company involving a publicly listed biopharmaceutical company.
Represented health plan in arbitration relating to alleged breach of contract in processing and payment of claims for medical services.
Represented a university in connection with a National Science Foundation - Office of Inspector General (NSF-OIG) and DOJ investigation relating to alleged grant fraud.
Represented American live entertainment company in federal antitrust putative class action involving allegations of tying.
Won a multimillion-dollar award for investors in arbitration hearing against major global fund manager, alleging self-dealing in the sale of the fund's interest in a network of health care providers.*
Successfully defeated a motion for judgment on the pleadings on behalf of a medical device company in a contract dispute in federal district court.*
Represented health care providers in state court litigation arising out of membership in the Healthcare Industry Self-Insurance Program of California.*
Won dismissal in federal district court of multi-billion dollar breach of contract action brought by a Mexican company against another Mexican company as part of bilingual defense team.*
Represented technology venture capital investor in corporate governance dispute in state court relating to portfolio company.*
Represented a secured creditor bank and receivership estate in pursuit of converted property in California state court.*
Represented CEO and CFO of publicly listed American manufacturer in federal securities class action and derivative suits.*
Successfully denied discharge to debtor in federal bankruptcy court litigation, representing creditor in adversary proceeding.*
Represented US Airways in DOJ antitrust litigation that ultimately resulted in the airline's merger with American Airlines.*
*Matter handled prior to joining Hogan Lovells.