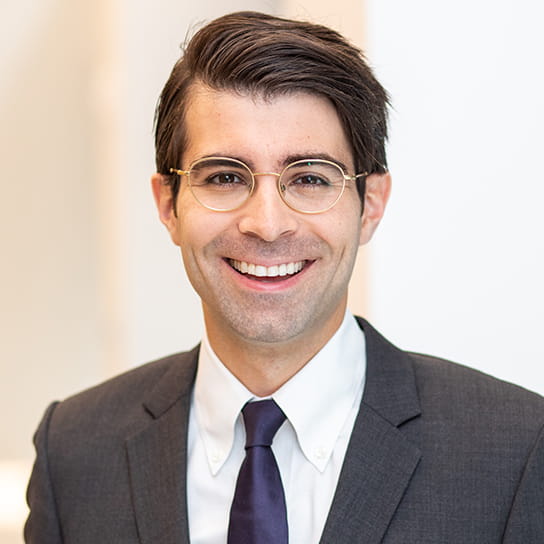 Steven Palyca advises clients on corporate and business matters, with a particular emphasis on mergers and acquisitions, joint ventures, corporate governance, private equity transactions, and licensing matters.
Steven has worked with clients in both the U.S. and international markets, advising on complex corporate reorganization and governance matters. He has represented both buyers and sellers in acquisitions across a number of industries, including media, technology, pharmaceuticals, and insurance, and often counsels pro bono clients on corporate governance matters, including compliance with the New York Not-for-Profit Corporation Law.
While in law school, Steven served as an associate editor of the Cardozo Journal of Conflict Resolution. He also gained experience as a summer associate with Hogan Lovells in 2011. Prior to law school, he worked as a paralegal in the Capital Markets group of another international law firm.
Representative experience
CI Financial on its acquisition of certain assets comprising the wealth management business (AUM US$11.4bn) of Eaton Vance WaterOak Advisors, formerly Eaton Vance Investment Counsel.
CI Financial on over 15 acquisitions of registered investment advisors, including: Segall Bryant & Hamill (AUM US$23.1bn), Portola Partners Group (AUM US$5.2bn), and Dowling & Yahnke (AUM US$5.1bn).
Ipsen on the sale to Fusion Pharmaceuticals of rights to a radiopharmaceutical being developed for oncology indications.
21st Century Fox on the separation and spinoff of certain news, sports, and broadcast businesses in connection with its acquisition by the Walt Disney Company.
Shire Plc on the ex-U.S. aspects of its US$2.4bn oncology business sale to Servier S.A.S.
Novartis, on its US$8.7bn acquisition of AveXis Inc., a U.S. clinical-stage gene therapy biotech company focused on developing treatments for spinal muscular atrophy.
Celgene Corporation on its acquisition of Impact Biomedicines, Inc. for up to US$7bn.
Novartis on its acquisition of Encore Vision, focused on the development of a novel treatment in presbyopia.
Alcon on its acquisition of Transcend Medical, Inc., developer of technologies for the treatment of glaucoma.
Google on its acquisition of Lift Labs.
Colombian financial services firm Sura in a series of buyouts of interests in Sura Asset Management held by JP Morgan, General Atlantic, and International Finance Corporation.
Advised an international pharmaceutical company in connection with its acquisition of a priority review voucher.
Novartis on its US$665m acquisition of Selexys Pharmaceuticals, a developer of therapeutics to treat pain associated with blood/inflammatory disorders like sickle-cell disease.
Pamplona Capital on its acquisition of Charter Nex Holdings.
HarperCollins on its acquisition of Harlequin Enterprises for C$455m, and subsequent integration matters.
News Corporation on the separation of its video entertainment and print media businesses as separate public companies, 21st Century Fox and News Corporation.
A global insurer on the sale of its life insurance business involving, in the aggregate, gross insurance reserves of US$3.4bn.
A Bermuda-based reinsurance company on its acquisition of U.S. insurance companies.
One Rock Capital Partners on its acquisition of Kova International, Inc.
Frequently advises U.S. and multinational entities and financial institutions, including Fortune 500 clients, on internal corporate reorganization and restructuring matters.
Education
J.D., Benjamin N. Cardozo School of Law, cum laude, 2012
B.A., Colgate University, 2007
Bar admissions and qualifications