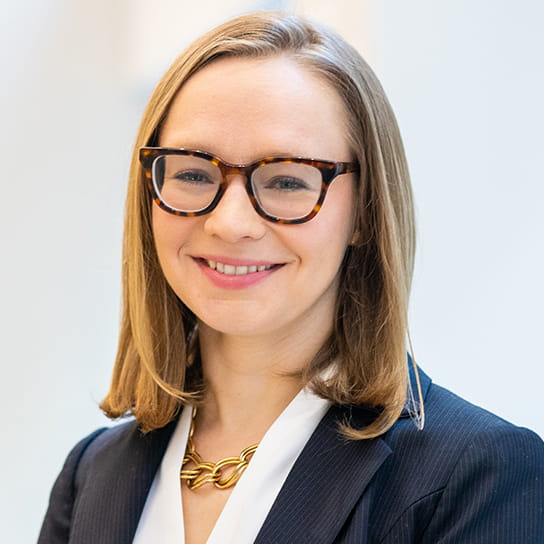 Megan Ridley-Kaye has experience working on a variety of domestic and international corporate transactions spanning a wide range of sectors, including energy, consumer goods, transport, infrastructure, pharmaceuticals, industrials, telecommunications, and chemicals.
Megan has advised clients in connection with a broad range of multijurisdictional equity and asset sales, including several auctions, corporate restructurings, and joint ventures. She has also advised multiple clients on renewable fuel offtake arrangements. 
Megan is active in the firm's global ESG practice. She has a particular focus on ESG and on M&A in the energy, infrastructure, commodities and natural resources industries. Megan is a member of the Hogan Lovells ESG team and is passionate about M&A and corporate transactions as an important tool for energy transition.
Previously, Megan was Assistant General Counsel at Noble Americas Corp. While at Noble, Megan managed and negotiated a variety of corporate and finance transactions and commercial agreements, including joint ventures, inventory financing, tolling arrangements, and credit facilities.
Representative experience
ASSA ABLOY on its US$800m sale of Emtek brands and smart residential business in the United States and Canada.
ASSA ABLOY on its US$4.3bn acquisition of the Hardware and Home Improvement division of Spectrum Brands.
ASSA ABLOY on the acquisitions of August Home, LifeSafety Power, Luxer Holdings Corporation, KEYper Systems, Security Holdings LLC, Concept Frames, Amarr Company, and Ameristar Fence Products.*
ASSA ABLOY on the divestiture of its wood doors business line to Masonite.* 
Ameriprise Financial on its acquisition of BMO Financial Group's EMEA asset management business.*
The founders of C2 Energy Capital on the sale of an 85% stake in C2 Omega LLC, the distributed solar platform of renewables investor C2 Energy Capital, to EDP Renewables North America LLC.*
C2 Energy Capital on its acquisition of 12 solar projects to be constructed in the State of New York.*
Ardian on the fundraising for multiple generations of its infrastructure funds.*
The administrative agent to the senior secured lender group of Titan Energy, LLC in connection with Titan Energy's out-of-court restructuring and dissolution.*
A global health care conglomerate on its initial entry into the United States through a majority investment in one of the leading fertility clinics in the northeast United States.*
AMEC in connection with its US$3.2bn acquisition of Foster Wheeler.*
CGG Land (U.S.) Inc. on the sale of its U.S. and Canadian land seismic acquisition business in exchange for a minority equity interest in Geokinetics Inc.*
BlackRock, Inc. on its equity investment in Peninsula Energy Limited, an Australian public company.*
Queijo Holding Corp. (Brazil) on its US$148.3m merger with Brazil Fast Food Corp.*
Triton on the acquisition of ALSTOM's auxiliary components business for thermal power plants.*
*Matter handled prior to joining Hogan Lovells.
Education
J.D., University of Pennsylvania Law School, 2010
Certificate of Business and Public Policy, University of Pennsylvania, Wharton School of Business, 2010
B.A., Wesleyan University, High Honors, 2005
Bar admissions and qualifications
Insights and Analysis
14 October 2022
Press releases
17 February 2022