Hogan Lovells welcomes more than 30 partners and senior counsel from Stroock
Press releases
|
20 November 2023
New York, 20 November 2023 – Global law firm Hogan Lovells welcomed 28 partners and four senior counsel from Stroock & Stroock & Lavan, who have joined the firm in New York, Washington, D.C., Miami, and Los Angeles.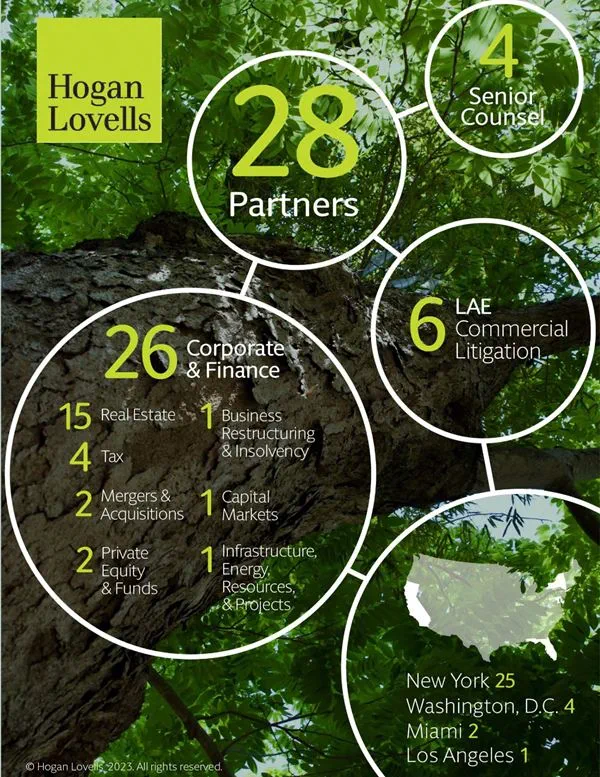 The group includes market leading lawyers with deep experience in virtually every aspect of commercial real estate, including the representation of developers, institutional investors, sovereign wealth funds, Fortune 500 companies, financial institutions, and REITs.
The litigation lawyers joining from Stroock significantly expand Hogan Lovells' commercial litigation capabilities. They have represented leading financial services, professional services, and other clients in a wide range of high stakes disputes, including commercial and securities litigation, class actions, antitrust, and state AG matters.
The group also includes highly regarded corporate, tax, and other lawyers who have structured some of the largest and most complex transactions in history in areas involving commodities, derivatives, and energy transactions, and who focus on M&A and advising public companies.
Hogan Lovells CEO Miguel Zaldivar stated:
"It is my pleasure to welcome this group of highly talented lawyers to Hogan Lovells. They join at an exciting time for the firm, as we are on a mission to grow in the U.S. in strategic markets and key practice areas. Over the last few months, we have gotten to know this group, and we are so pleased to now call them our colleagues."
David Bonser, Global Managing Partner of the Corporate practice and Global Head of the REIT practice commented:
"We had long known the real estate group at Stroock through our REITs work, and knew they would be a good fit. And indeed having had the opportunity to spend more time with them, we are even more confident that our clients will benefit from the greater depth and breadth we can bring to bear as a combined team."
Jeff Keitelman, former co-managing partner of Stroock and former co-chair of Stroock's Real Estate Group, said:
"We chose Hogan Lovells in part because of its top-ranked REITs practice, and because we are confident that Hogan Lovells is a great place to grow our multi-dimensional real estate practice where we counsel institutional investors, major developers, lenders, and operators of virtually every type of real estate in every major U.S. market. Not only does the firm have an impressive global reach that attracts us, but there is a truly collaborative culture that aligns with our approach to client service."
James Bernard, who served as head of Stroock's General Litigation Practice Group, said:
"Hogan Lovells has a deep bench of experience in every area of commercial litigation, including complex and multijurisdictional litigation, class actions and MDLs, and matters stemming from regulatory action. My colleagues and I are excited for the opportunities presented by this exceptional platform."
The partners and senior counsel who have joined are listed in the attached.