Media: Press Releases | 8 December 2016
A first in inter-company collaboration: successful pro bono event in the Thames Valley
Science-based technology company 3M, global law firm Hogan Lovells and the Association of Corporate Counsel (ACC) hosted a second workshop to provide pro bono legal advice to seven social enterprises.
The pioneering event saw in-house lawyers from leading companies in the Thames Valley come together for the first time to participate in the event.
Taking part were some 15 lawyers from Hogan Lovells, 3M, Dell Corporation, Hewlett Packard Enterprise and Philips Electronics UK with the event sponsored by the Association of Corporate Counsel.
Attending social enterprises were identified by Bethnal Green Ventures, an organisation which supports early stage ventures through its accelerator programme. The enterprises selected use technology to tackle pressing social issues across a range of sectors including teaching, immigration and health.
Legal advisers provided pro bono advice to address a range of legal issues that enterprises were facing in areas such as capital fund raising and employee incentive schemes, product liability, terms and conditions, employment, marketing and advertising, data protection and general commercial or contract law.
Avnee Thakrar, Senior Legal Counsel at 3M, hosted the event and led the organisation of the workshop on behalf of 3M and the other in-house legal teams. She commented: "As part of our wider Corporate Social Responsibility Programme, 3M lawyers are committed to providing pro bono services, globally, to benefit the communities in which we do business and also to inspire others to undertake such work.
"We hope our endeavours will encourage others to use their legal knowledge and experience to benefit those who may not otherwise have access to such skills."
Sarah-Jane Dobson, Associate within Hogan Lovells' global products liability team, who led the organisation of the event on behalf of Hogan Lovells, added: "Both the social enterprises and the legal advisers that participated in the day have taken away something very valuable from the event - be it important legal advice that shapes the future of their businesses, strategic business contacts or a sense of having contributed in some way to some of society's biggest problems".
Rod Freeman, Partner and Head of Hogan Lovells' renowned global product liability practice, said: "We take our pro bono and social enterprise work very seriously at Hogan Lovells, and enjoy working with clients like 3M who do the same."
Ends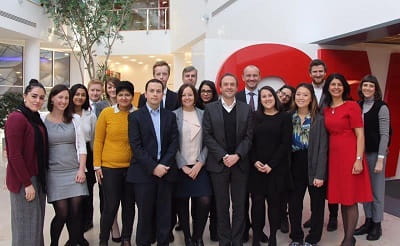 The legal advisers line up with representatives from the social enterprises and Bethnal Green Ventures
For further information please contact
Bevis Waddington, Myriad PR
T: 01925 820072
E: [email protected]
Notes to Editors
3M is a trademark of 3M Company
About 3M
At 3M, we apply science in collaborative ways to improve lives daily. With $30 billion in sales, our 90,000 employees connect with customers all around the world.
The UK and Ireland is home to one of the largest 3M subsidiaries outside the USA, employing 2,900 people across 20 locations, including eight manufacturing sites.
Products manufactured in the UK include coated abrasives, personal safety equipment, adhesive tapes, industrial microbiology products, drug delivery systems and high-performance coatings.
Learn more about 3M's creative solutions to the world's problems at www.3M.co.uk or follow @3M_UK on Twitter.
Back To Listing
---