Mahvesh A. Qureshi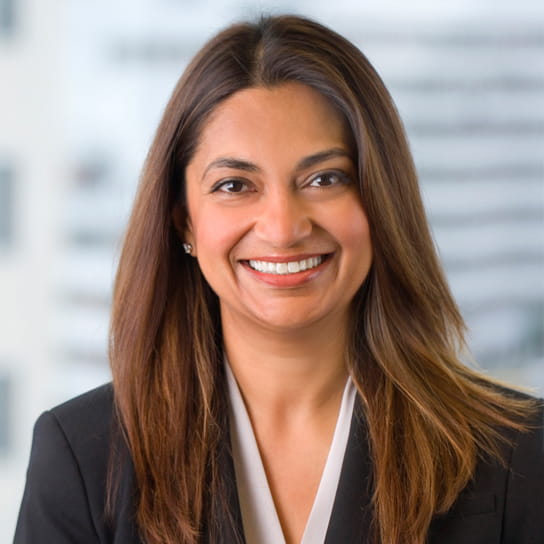 In an economy driven by innovation, companies and investors require legal solutions as fast-moving and adaptable as they are. With more than 14 years of experience advising innovative companies and strategic investors, Mahvesh Qureshi understands how best to implement these solutions.
A Washington D.C. area-based partner in the firm's Corporate Practice Group, Mahvesh counsels corporations and private equity investors on corporate matters including mergers and acquisitions, joint ventures, commercial transactions, and corporate governance. Mahvesh has extensive experience advising clients in a range of industries including information technology, media, aerospace, defense, government services, and healthcare.
Representing major corporations, private equity and venture investors, and high-growth portfolio companies, Mahvesh oversees corporate matters from a diverse perspective. Based on her experience seeing corporate issues from "all sides of the table," Mahvesh believes that the best legal advice helps clients solve short-term problems quickly and enables businesses to effectively execute long-term strategies.
Mahvesh's passion for giving back and commitment to global issues has led her to advocate on behalf of worldwide poverty reduction, women's rights, and international development efforts. She led the firm's pro bono representation of a global non-governmental organization focused on international girls' education and provided governance and organizational advice to a government-led planning and disaster relief body.
Representative Experience
21st Century Fox's formation of National Geographic Partners with The National Geographic Society.
Represented ABS Capital Partners in numerous investments and acquisitions of growth stage companies, including Bambeco, iZotope, RedZone, and INTTRA.
Hearst Corporation's investments in Complex Media and Lightbeam Health Solutions.
Represented Lockheed Martin Corporation in the disposition of Pacific Architects and Engineers Incorporated.
Represented Babcock International Group PLC in the disposition of its U.S. aerospace, defense, and government services industry sector business.
Represented Accenture in its acquisition of Zenta US Holdings, Inc., a global mortgage processing and services company.
21st Century Fox's joint venture with Apollo to bring together Endemol, Shine Group, and CORE.
Represented ABS Capital Partners in the acquisitions of ConnectYourCare from Express Scripts and Accurate Group Holdings from Evolution Partners.
Represented Cobham plc in the disposition of its U.S.-headquartered Analytic Solutions Business.
Represented NV5, Inc., an engineering and consulting services firm in multiple strategic acquisitions.
Represented a power generation company in the sale of its interests in a hydroelectric facility.
Represented U.S. affiliate of UK-based defense contractor in its acquisition of an unmanned aerial vehicle services business.
Represented 21st Century Fox in equity investments in various multi-media companies.
Represented a nonprofit foundation in numerous investments in early stage growth companies.
2014-2015
Legal Elite, Business Law
Virginia Business magazine