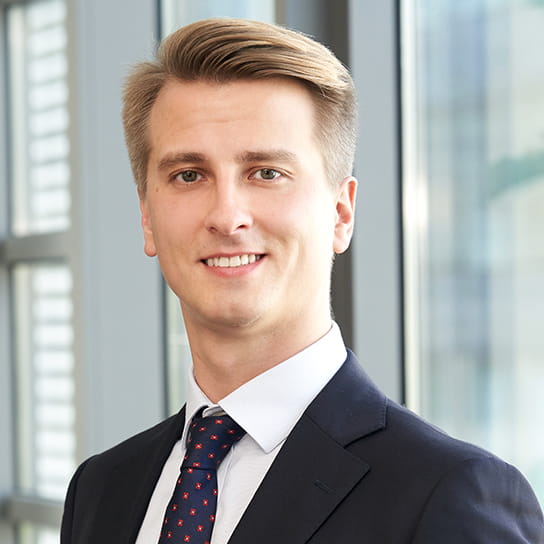 Stefan Kirwitzke advises clients on all questions relating to EU and German antitrust and competition law as well as international trade and investment law.
At the intersection of competition and trade law, Stefan guides clients to successfully close their multi-jurisdictional M&A transactions in the context of merger control and foreign investment control proceedings. He focusses his practice on international, cross-border cases and has experience handling complex global mergers in front of the European Commission, the German Federal Cartel Office and Ministry of Economics as well as coordinating merger and FDI filings in jurisdictions globally towards multiple regulators. Stefan also advises on sanctions and export controls in a German, European and international context as well as procurement law, specialising in defence procurement. With a background in diplomacy and policy, Stefan has a sound understanding of liaising between international clients respectively and in their relation to international authorities.
Prior to joining the firm, Stefan completed traineeships in the Hamburg and Ho-Chi-Minh-City offices of another international law firm and at the German Embassy in Bratislava, Slovakia.
Stefan is German-qualified and undertook his legal education at the Universities of Münster and Salzburg and at the Appellate Court of the Federal State of Schleswig-Holstein. Besides German law, he focused his studies on international and European private and public law as well as common law, working inter alia with a London-based law firm.
Education and admissions
Education
Second State Exam in Law, Appellate Court of Schleswig-Holstein, 2018
First State Exam in Law, University of Münster, 2015
Memberships
Studienvereinigung Kartellrecht e.V. (German Association for Antitrust Law)
Rechtshistorischer Studienkreis Münster e.V. (Association for Legal History at the University of Münster)
Bar admissions and qualifications
Hamburg
Brussels (E-List)
Representative experience
Advising FLIR Systems Inc. on its US$8bn sale to Teledyne Technologies Incorporated in a cash and stock merger transaction (merger control and foreign investment control).
Advising Dell on multi-jurisdictional foreign investment control proceedings in relation to the sale of its IT security business RSA to Symphony Technology Group for US$2.07bn.
Advising BASF on multi-jurisdictional merger control proceedings in relation to the combination of its paper and water chemicals business with Solenis.
Advising Bundesrepublik Deutschland – Finanzagentur GmbH on European aviation law aspects of the granting of stabilisation measures by the Economic Stabilisation Fund (WSF) for Deutsche Lufthansa AG.
Advising a U.S. aerospace, defence, security and advanced technologies company in several German defence procurement matters and related litigation.
Advising an international life sciences company on the European multi-jurisdictional foreign investment control procedures regarding their acquisition of assets relating to certain pharmaceuticals.
Advising an international diversified corporate group on the multi-jurisdictional FDI filing obligations relating to the sale of its aviation services subsidiary.
Advising a Chinese acquirer on German in-depth foreign direct investment screening procedures and remedy negotiations concerning the acquisition of a German IT company.
Advising several corporations in different legal questions relating to their Iran businesses and prospective divestitures following the US withdrawal from the JCPOA.
Advising a German technology start-up on German FDI screening procedures and EU export control regulations.
Advising Sasol on FDI and antitrust related aspects of the sale of its 50 percent stake in the Sasol-Huntsman maleic anhydride joint venture.
Advising a multinational aerospace technology and communications company on export controls matters and its internal export controls and sanctions compliance programme.
Advising a multinational chemicals company on potential sanctions infringements and related investigations.
Advising on foreign investment control apsects and procedures regarding several transactions in the LNG sector in Germany.