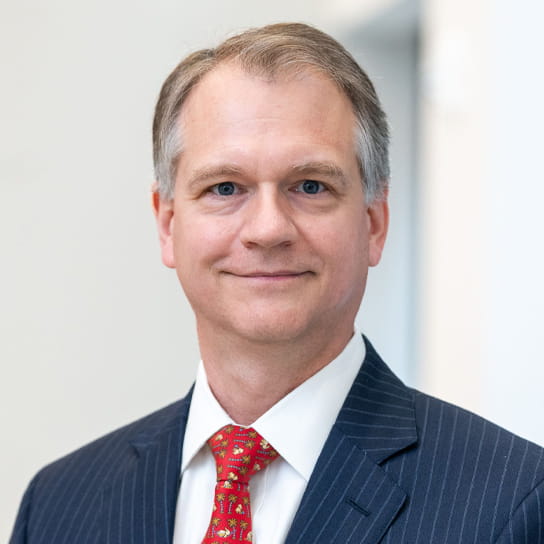 Bradley K. Edmister is a cross-border deal maker who represents global clients in international M&A and capital markets transactions.
Fluent in Japanese, Bradley practiced in Tokyo for 10 years where he advised transactions throughout Asia. He handles a range of public and private M&A matters for both strategic and private equity clients, cross-border joint ventures, and global equity and debt capital markets transactions.
Bradley has worked on high-profile deals across Asia including Australia, Bangladesh, China, India, Indonesia, Malaysia, South Korea, Singapore, Taiwan, and Thailand, as well as throughout Europe and Latin America. He also advises clients on the cross-border securities aspects of public M&A transactions and advises investment banks with respect to fairness opinions.  As a trusted advisor to major global companies, Bradley additionally coordinates general U.S. advice including disputes, trade sanctions and regulatory matters.
In capital markets, he has advised on numerous global equity and debt offerings involving well-known Japanese companies and financial institutions. He is one of the preeminent advisors to J-REITs and listed Japanese infrastructure funds, regularly advising issuers and underwriters in global offerings for such entities.
Bradley has taught U.S. law at Keio University Law School in Tokyo for over a decade and serves as a director on the boards of Japan Society in New York and the Japan-America Society of Greater Philadelphia.
Representative experience
Nomura Securities as financial advisor to Nippon Oil on its approximately US$8bn integration with Nippon Mining that won Asian Counsel's "Asian Deal of the Year 2010."*
Japan Retail Fund Investment Corporation and its asset manager, Mitsubishi Corp.-UBS Realty (MCUBS), on the approx. US$11bn merger of Japan Retail Fund with MCUBS MidCity Investment Corporation.*
Asahi Kasei on the approximately US$1.3bn public acquisition of Veloxis Pharmaceuticals.*
Tadano, Ltd. on the carve-out acquisition of the German-based Demag Mobile Cranes business from NYSE-listed Terex Corporation for an enterprise value of approximately US$215m.*
Shionogi & Co. on its acquisition of Tetra Therapeutics, a clinical stage biotechnology company.*
H.I.S. Hotel Holdings on the acquisition of a hotel in Times Square, New York.*
Tadano, Ltd. on its acquisition of a 14.9% stake in NASDAQ-listed Manitex International, Inc. (Nasdaq: MNTX).*
Sumitomo Corporation on the formation of the U.S. Prime Office Fund II, an approx. US$425m closed-end private real estate fund, and the acquisition by the fund of the Atlanta Financial Center.*
Sumitomo Corporation on its over US$1.6bn 50-50 joint venture with Michelin North America Inc. to form the second-largest wholesale tire distribution business in the United States.*
Sumitomo Corporation on its approximately US$802m public acquisition of Fyffes plc.*
Nomura, Mizuho, Citi and Daiwa, the financial advisors to JX Holdings, on the announced integration of JX Holdings with TonenGeneral.*
Sumitomo Corporation on the announced acquisition of a 20% stake in Upsher-Smith Laboratories from Sawai Pharmaceutical.*
Kenedix Asia on the acquisition of 15% of the units of Malaysia-listed AmanahRaya REIT (AARET:MK) and 49% of the shares of AmanahRaya-REIT Managers Sdn. Bhd., the asset manager of AmanahRaya REIT.*
Owl Creek Asset Management on Comcast NBCUniversal's acquisition of its 51% interest in Universal Studios Japan and Comcast's subsequent acquisition of 49% interest in USJ, valuing USJ at US$7.4bn.*
TBC Corporation, a subsidiary of Sumitomo Corp, on its approximately US$310m acquisition of NYSE-listed Midas, Inc. through a tender offer.*
Asahi Kasei Medical in an approximately US$45.2m PIPE investment in NASDAQ-listed NxStage Medical, through a debt-equity swap, and collaboration arrangements.*
The underwriters, led by SMBC Nikko, Morgan Stanley, and Daiwa in an approximately US$161m equity offering of investment units of Tokyo Stock Exchange-listed Mitsubishi Estate Logistics REIT.*
The underwriters, led by Mizuho and Macquarie, on the global IPO of TYO-listed Canadian Solar Infrastructure Fund, Inc., the first global IPO of an infrastructure fund on the TYO's new market.*
Kenedix Retail REIT Corporation on a ¥59.8bn global formation IPO and listing on the Tokyo Stock Exchange. SMBC Nikko, Nomura, and UBS were international joint lead managers and bookrunners.*
Mitsubishi Estate and its wholly owned finance subsidiary, MEC Finance USA, in respect of its US$4bn Medium Term Note Programme.*
*Matter handled prior to joining Hogan Lovells.
Education
J.D., Harvard Law School, 1999
B.A., Harvard College, 1996
Bar admissions and qualifications
Memberships
Outside Director, Maruha Nichiro Corporation
Director, Japan Society
Director, Japan America Society of Greater Philadelphia
Specially Invited Professor (Tokubetsu Shohei Kyoju), Keio University Law School in Tokyo
Member, New York State Bar Association
Member, American Bar Association
2023
Ranked, Capital Markets, Japan, Global
Chambers Global
2016–2023
Capital Markets: Debt & Equity (Foreign Expert for Japan), USA
Chambers Global
2012–2014
Ranked, Capital Markets (Expertise Based Abroad), Japan
Chambers Global
2019–2022
Notable Practitioner
IFLR1000 Financial and Corporate
2018, 2020
Notable Practitioner
IFLR1000 United States
2014
Recommended, Mergers and Acquisitions
The Legal 500 US
2010, 2011
Ranked
Chambers Asia: The World's Leading Lawyers for Business
Press releases
06 February 2023