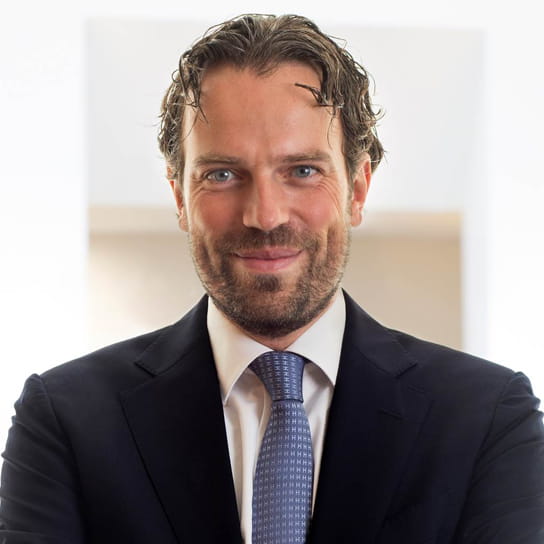 "Hogan Lovells International LLP's 'proactive' department is 'good value for money', and provides 'in-depth, spot-on' advice."

Legal 500 EMEA 2017
Wouter Jongen is an English and Netherlands law qualified finance lawyer and has a broad practice with particular interest in private equity driven acquisition financings, real estate, and debt capital market products, acting both for borrowers and lenders. During his career, he has spent several years in London and Amsterdam developing an in-depth knowledge of the UK and Dutch markets. He has also spent a year on secondment to a large UK based investment bank.
Wouter is a guest lecturer at King's College in London and the University of Amsterdam where he has provided lectures on legal aspects of international finance since 2008.
Wouter has recently acted as lenders' counsel on various private equity driven (acquisition) financings including those for Chime Communications (sponsor: Providence), Suba Seeds (sponsor: Paine Schwartz Partners), Izico and Dutch Bakery (sponsor: Egeria) Nederlandse Energie Maatschappij, P4P, Otravo, JvH, Nuts Group and Keylane (sponsor: Waterland), Blue Cielo (sponsor: Gilde), DORC (sponsor: Montagu), WFCI (sponsor: Greenbriar), Verolme (sponsor: Bencis) and Euro-Caps (sponsor: Bregal Freshstream).
Wouter has been at the forefront of the unitranche debt market, working with non-bank lender clients and private capital providers (such as ICG, Ares, Goldman Sachs and others) on unitranche and other alternative lending products, and with banks providing super-senior working capital facilities.
Wouter has recently acted as borrower' counsel on various (syndicated and club) financings including for HB Capital (acquisition Hurks), Terberg (acquisition RosRoca), Parcom (acquisition Simpel.nl and Condoor), Blackstone-owned Multi (various real estate financings) and investment grade companies Enexis and Stork (acquisition by Fluor).
On the real estate side, Wouter assists Goldman Sachs in various matters.
Prior to joining Hogan Lovells as a partner in October 2014, Wouter was a senior associate at Freshfields (London and Amsterdam).
Awards and recognitions
2018
"He excels in commerciality, has a proactive approach and is very in sync with the market."
Chambers Global 2018
2017
"He's part of the new generation of young and hungry partners that's currently building his franchise with a relentless focus on detail and availability to his clients."
IFLR1000 2017
2017
"To the point, timely and of high quality. Very pleasant to work with. Wouter is a very competent lawyer with a keen eye for establishing fruitful long term relationships."
IFLR1000 2017
2017
"Wouter Jongen of Hogan Lovells International LLP deals with acquisition financing and debt capital markets. Clients consider him to be "a pragmatic, problem-solving lawyer who adopts the interests of his clients, but is open for discussion with the counterparty."
Chambers Global 2017
2016
"The 'very committed' Wouter Jongen is dual qualified in the Netherlands and England and Wales."
Legal 500 EMEA 2016
2017
"Wouter Jongen is an able practitioner recognised for his strong background in banking and finance, doing promising work ."
Chambers Global 2017
Education and admissions
Education
LL.M., University of London, King's College, 2005
LL.M., University of Maastricht, 2004
LL.B., University of Maastricht
Bar admissions and qualifications
England and Wales
Netherlands
Representative experience
Advised Goldman Sachs on the refinancing of Suba Seeds Group (owned by Paine Schwartz Partners) by way of a senior term and super senior revolving credit facilities.
Advised Goldman Sachs on various real estate related transactions in the Netherlands.
Advised Terberg Group on the pan-European acquisition syndicated loan financing supporting the merger of Terberg Environmental and Ros Roca Environment.
Advised Intermediate Capital Group in relation to the EUR 140m refinancing of Bergman Clinics.
Advised Rabobank, ABN AMRO and Bank of Ireland on the global credit facilities to World Freight Company (owned by Greenbriar).
Advised Parcom on the financing of its acquisition of a minority interest in Simpel.nl.
Advised Boskalis on the acquisition financing for the public offer for Dockwise.
Advised Fluor Corporation on its financing arrangements to support the acquisition of Stork Technical Services.
Advised various lenders on the financings supporting Waterland's acquisitions of Nuts Groep, P4People, Tentoo, Otravo, Vakantiediscounter, Keylane and others.
Advised a consortium of 12 banks (guarantee providers) on the Imtech restructuring.
Advised Rabobank with respect to the subordinated financing for the Vion Group.
Advised ING and Rabobank on the acquisition financing for the public offer for Gamma Holding by Gilde Investments.
Advised Win Systems on its financing arrangements supporting its acquisition of Gold Club Gaming and Entertainment Gold Club.
Advised the lenders on the refinancing of Euro-Caps (minority owned by Bregal Freshstream).
Advised the lenders on the acquisition financing for WCC Group acquired by Avedon Capital Partners.
Advised Avedon Capital with respect to the refinancing of Robidus.
Advised Ares in relation to the refinancing of DORC (owned by Montagu) and on the financing supporting Parcom's acquisition of Viroclinics Biosciences.