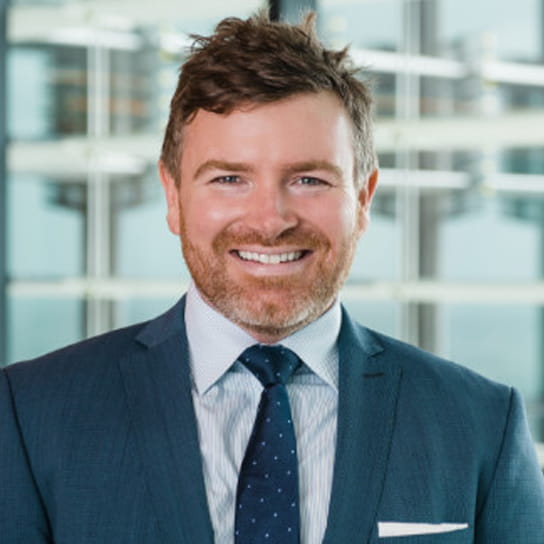 James Wood is an investment funds partner, and has over 16 years' experience advising private capital participants.  
Private Equity International, a recognised international private equity publication, named James as one of the top 40 Future Leaders of Private Equity. The ranking recognises the future leaders set to shape the private equity sector over the next decade as voted by industry professionals globally. Clients and his peers describe James as "business-savvy", "quick-thinking" and "…has strong expertise and experience in the investment funds space, which gives us a good level of comfort in our dealings, and knowing that different scenarios and options have been considered before proceeding with work…". Chambers Asia-Pacific has ranked James for two consecutive years.
Mr Wood advises on syndicate arrangements, club-style deals, private equity and credit fund establishment, investment in private equity funds, private equity secondaries and carried interest and co-investment arrangements, and has spent over four years as an investment funds specialist in London, UK.
James is known for his depth and breadth of experience in dealing with international fundraising.
James is the Hogan Lovells Australia partner with primary responsibility for pro bono activities, and is the regional co-chair of the firm's Global Ability and Inclusion Network (GAIN).
Awards and recognitions
2020
Future 40 Leader of Private Equity
Private Equity International
2021-2022
Investment Funds, Up & Coming
Chambers Asia-Pacific
Education and admissions
Education
Bachelor of Business, University of Technology, Sydney
Bachelor of Laws, University of Technology, Sydney, Honours
Memberships
Law Society of New South Wales
Court admissions
Supreme Court of New South Wales
Representative experience
Actis in connection with Actis Global 4, a A$1.6bn global emerging markets fund and Actis Energy 3, a A$1.3bn global energy fund.*
Apax Partners, in connection with the fundraising of Apax VIII, a €5.8bn global fund.*
Blackbird Ventures in the establishment of its second fund targeting commitments in excess of A$350m.*
BlackRock on private equity investments, strategic co-investments and investment management agreements.*
Blackstone Group on its proposal to acquire all the stapled securities in Valad, formerly an ASX-listed stapled investment vehicle.*
Crescent Capital Partners, on the private fund establishment of Fund IV, Fund V and Fund VI, and a secondary transaction relating to National Dental Care Limited.
CVC Capital Partners, on its flagship fund for private equity investments in Europe and North America, CVC Capital Partners VI, a €10.5bn fund.*
Dinimus on its establishment of successive vintages of private credit funds (open and closed structures). 
EQT on the fundraising of EQT Infrastructure II Fund, worth €1.9bn, and EQT Mid-Market Fund, focused in Greater China and Southeast Asia.*
Genesis Capital on the formation of its first private equity fund, raising ~A$200m in commitments.
Linear Capital on the establishment of Linear Capital V, L.P. and LCCP Opportunity Fund II, L.P. with target capital commitments of up to US$300m, and US$200m respectively. 
Liverpool Partners on the structuring of its public-to-private transaction targeting Zenitas Healthcare Limited.*
Liverpool Partners on the establishment of investment structures to support Australian superannuation fund investment. 
Pemba Capital in connection with its syndicate arrangements and Fund I.*
PIMCO on the establishment of the European tranche of a credit opportunities fund.*
Qualitas on its first and second flagship opportunities funds, and its first build-to-rent fund with a total debt and equity capitalisation of A$1.2bn.
REST Super on its A$500m investment management arrangement with QIC.*
Sentient Equity Partners on its global A$1.2bn+ Private Equity Resources Fund.*
An ASX top 25 company on the spin-out of a fund portfolio involving a club arrangement with an Asian secondary fund of funds.*
*Matter handled prior to joining Hogan Lovells.