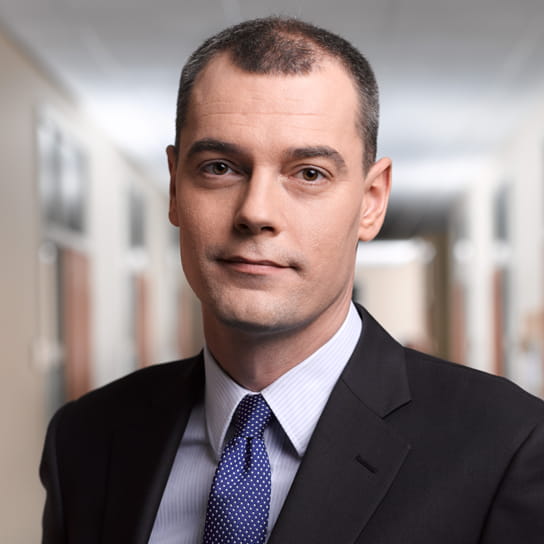 Tomasz Grygorczuk
CounselWarsaw
As a qualified legal advisor (radca prawny) and counsel in the corporate and M&A department, Tomasz joined the firm's Warsaw office in 2008. His legal advice focuses on Polish and international capital market matters, mergers and acquisitions, corporate restructuring, civil and commercial law, as well as corporate governance issues.
Tomasz has in-depth experience in M&A transactions and joint ventures involving private and listed companies both on Polish and international markets. He advises Polish and international financial institutions (banks, insurers, pension and investment funds) as well as other entities on their economic activities in Poland. In addition to above, Tomasz represented clients in many capital market deals including public and international public offerings. Tomasz Grygorczuk is member of the Circuit Chamber of Legal Advisors in Warsaw.
Awards and recognitions
2011
Corporate
Chambers Europe
2013
Chambers Global, Corporate/M&A

2014
Corporate/M&A
Chambers Global
Education and admissions
Education
MA Law, University of Warsaw
Memberships
The Circuit Chamber of Legal Counsel in Warsaw
The Circuit Chamber of Legal Counsel in Warsaw, 2004
Bar admissions and qualifications
The Circuit Chamber of Legal Counsel in Warsaw
Representative experience
Advising mBank SA (Commerzbank AG Group) on sale of shares in BRE Ubezpieczenia and long-term bancassurance cooperation with AXA group entities.
Advising Getin Holding on sale of shares in TU Europa (through public tender) and long-term cooperation with Talanx group entities.
Advising Actavis Group on join-venture with Bioton SA.
Advising Aviva International Insurance on long-term insurance joint venture with bank BZ WBK SA through life and non-life insurance companies in Poland.
Advising PKO BP SA on purchase of 25% of shares in PKO TFI from Credit Suisse Asset Management.
Advising BBI Development on joint venture with Liebrecht & Wood regarding development of Plac Unii Lubelskiej (office-retail complex in Warsaw).
Advising Doughty Hanson PE fund in tender for TP Emitel.