Georgy Kalashnikov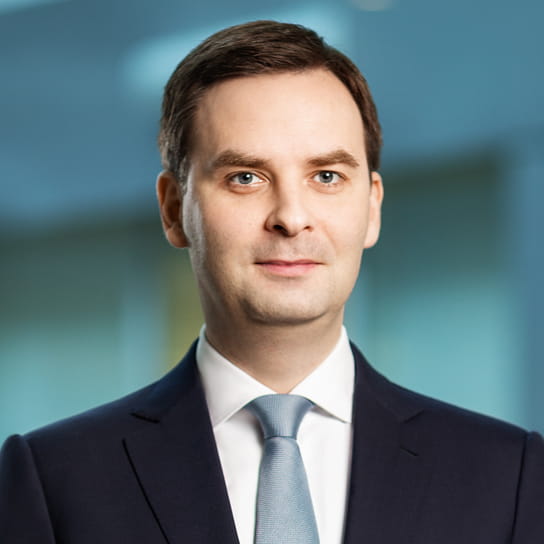 Languages
English, French, Russian
Clients benefit from Georgy Kalashnikov's experience in leading cross-border strategic M&A and joint venture projects, in particular, in the real estate, energy, metals & mining and aviation sectors. His client base is truly global in nature and he has successfully led multi-jurisdictional teams across Europe, Africa, North & South America, and Asia-Pacific. Corporate reorganizations and corporate governance are also strong areas of focus for Georgy.
As well as having a wealth of transactional experience, Georgy is also highly regarded for his work in the corporate structuring of debt and equity portfolios, both as business and private assets.
Georgy is a profound negotiator and mediator; these qualities are highly valued by clients and are respected by his peers. He is defined as a "business-oriented" and "tough negotiator" with "strong experience in the private equity sector" (Chambers Global, Europe, 2015).
In addition to his legal education (a Law Degree (Moscow State Institute for International Relations, Department of International Law (MGIMO), 2001 and a Ph.D at the Institute of State and Law of the Russian Academy of Science), Georgy holds an Economics Degree (Financial University under the Government of the Russian Federation, with honors, 2011).
Being a strong believer that sharing is a virtue, Georgy teaches a course on M&A at the Moscow State Institute for International Relations, Department of International Law (MGIMO), and is a Senior Researcher at The Institute of State and Law of The Russian Academy of Sciences.
Representative experience
Advising Geopromining, a gold mining company with assets in Russia, Armenia and Canada, on a sale of a minority stake to Altera Capital and Sberbank Capital.
Advising Bellared Holdings Limited on US$1+bn aborted acquisition of 10.7% of share capital of Rostelecom, a London-listed subsidiary of a former Russian state-owned telecom. Svyazinvest.
Advising Luxaviation Group, the world's largest global private aviation group, on acquisition of 100% shares of Execujet Aviation Group (ExecuJet) from Irish Forbes Dermot Desmond.
Advising Deost LLC on the complete sale of its orthopedic business to Smith & Nephew plc, a UK FTSE 100 diversified advanced medical technology business.
Advising Acmero Capital, a Hong Kong-based fund manager, on acquisition of a blocking stake in Shokoladnitsa, Russia's largest coffee shop chain, for US$100+m.
Advising Russian Mining Company (RGRK) on sale of a 50% stake in LLC Yaroslavsk GRK to UC RUSAL, the world's largest aluminium producer.
Advising Karelnerud Group of companies, the largest player in Russia's Republic of Karelia aggregates and concrete sector, on its acquisition by Finarge 47 SAS.
Representing Burger Rus LLC's managing shareholder and an investor group regarding the reopening of Burger King GmbH, which operates 89 Burger King restaurants in Germany.
2015
Corporate/M&A - Russia
Chambers Europe
2013
Corporate/M&A - Russia
Legal 500
Latest thinking and events