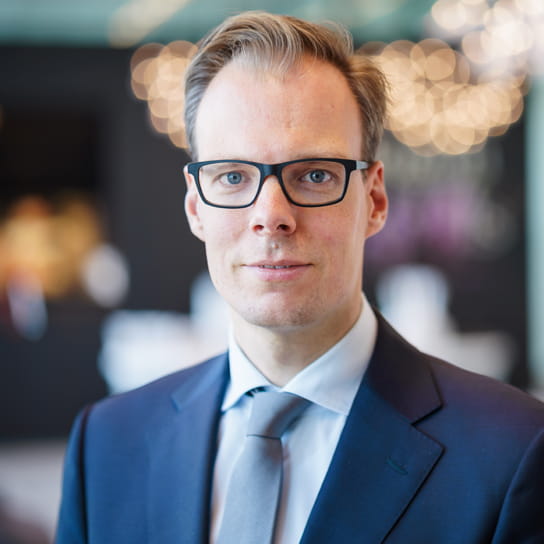 Dirk-Jan Ridderinkhof
Senior AssociateAmsterdam
As a senior associate in our Intellectual Property, Media and Technology (IPMT) Group, Dirk-Jan Ridderinkhof focuses his practice at Hogan Lovells on commercial litigation and advisory in the field of intellectual property.
He brings extensive experience in complex cross-border patent and trade secrets disputes in industries as diverse as life sciences, energy and telecom. This includes bringing and defending ex parte measures, evidentiary seizures for obtaining and safeguarding evidence, conservatory attachments and interim relief proceedings. He has represented clients before the Dutch Courts of First Instance, the Dutch Courts of Appeal and also has experience in litigation before the Dutch Supreme Court and the Court of Justice of the European Union. In addition to his litigation work, he also advises his clients on enforcement and defensive strategies, and has extensive experience in forensic evidence analysis.
Dirk-Jan graduated from NHL University in 2005 in Software Engineering and graduated from Groningen University in Information Technology Law in 2009. He started working at the IPMT Group of the Amsterdam office of Hogan Lovells on 15 May 2010, he qualified and was admitted to the Amsterdam bar in July 2010.
Dirk-Jan is also engaged as a mentor at the Dutch non-profit organisation ECHO, an Expertise Centre for Diversity. In this role, he provides support and feedback to undergraduate and graduate students having a multicultural background on the road to achieve their career goals. He also supports the non-profit organisation JINC by coaching secondary school students to explore, enhance and use their talents in spite of any socio-economic issues they may face.
Dirk-Jan is recommended by Managing Intellectual Property (MIP) and Legal Media Group (LMG). MIP ranked him as 'notable associate' in the field of patent and trade secret litigation. In-house counsel and peers recommend him as a Rising Star in Patents resulting in ranking in LMG's Rising Stars guide.
Awards and recognitions
2018
Rising Star in Patents
MIP's IP Stars
2017
Intellectual Property Star
MIP's IP Stars
2017 - 2018
Rising Star in Patents
LMG's Rising Star guide