We are one of only a few market leading fund finance practices. We have been at the forefront of the market since its inception, working with our clients to shape a range of fund related finance and leverage products.
Our fund finance lawyers have extensive, market-leading expertise in financing for funds across key jurisdictions including the UK, Luxembourg, the US and in the Asia Pacific region. We also regularly work with firms in offshore jurisdictions such as Jersey, Guernsey and the Cayman Islands. Our experience covers all facility and fund types, including subscription, NAV, pre-fund close bridges, end of life financing, co-investment, and management company financings for direct lending, special situations, private equity, secondaries, infrastructure funds and more.
We work closely alongside our private equity, tax and corporate teams across our global network to provide practical and business focused solutions.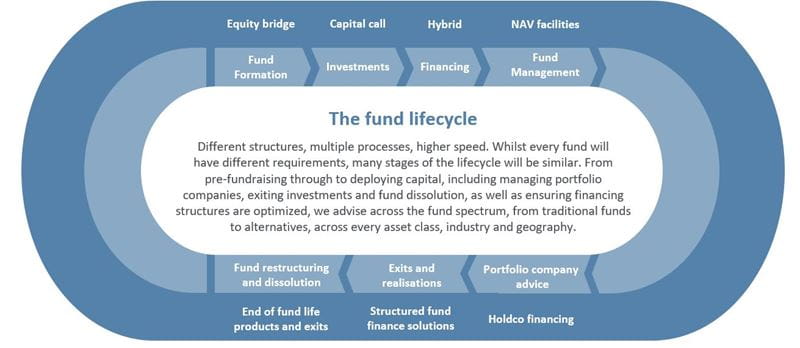 Representative experience
Hayfin Capital Management, an international investment fund manager, on its ongoing fund finance matters for multiple structures, including capital call, hybrid and other financings for co-mingled and SMA structures.
Pantheon on numerous debt facilities to Pantheon managed vehicles in connection with the acquisition of portfolios of fund interests and infrastructure assets.
A market leading secondaries fund on a US$600m NAV facility provided by Goldman Sachs the proceeds of which were to be used to provide leverage for ongoing investment purposes.
A major bank on its participation in a €1.75bn subscription line facility provided to three Cinven funds (the Fifth Cinven Fund, the Sixth Cinven Fund, and the Seventh Cinven Fund).
The lenders on the £200m NAV facility for HgCapital Trust (with automatic conversion mechanics to SOFR and SONIA Risk Free Rates).
HICL Infrastructure, in relation to facilities including innovative letter of credit and ESG-linked arrangements to support HICL's existing and future infrastructure projects and investments.
Equitix on the investor-backed facilities, NAV facilities and hybrid facilities for eight of the funds managed by Equitix.
A large UK investment house on the setup of two Luxembourg "unregulated" alternative investment funds, including the fund financing aspects.
The lenders in relation to the provision of numerous different financing products to the various Bridgepoint Europe Funds II, III , IV and V.
A newly established open-ended real estate fund managed by a major investment bank on its US$75m hybrid revolving credit facility from ING Singapore to be used to fund investments and working capital needs.