Hogan Lovells Publications | 13 November 2017
Italy inbound: look no further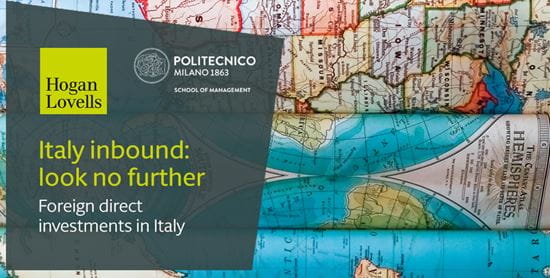 As a global law firm with Italian roots, we have a keen interest in the appetite of international buyers for cross-border M&A involving businesses in the peninsula.
As part of our focus on understanding the dynamics of foreign direct investment in Italy, we commissioned the Politecnico of Milan to conduct a unique study, combining a quantitative analysis of cross border M&A over the last four years and a survey of a sample of top managers in Italian companies recently acquired by overseas investors to obtain a qualitative insight into the impact of foreign investment on their businesses. The study focusses on small to medium-sized businesses with a turnover of between Euro 50 million and Euro 500 million, given the importance of this sector to the Italian economy and the opportunities which this sector offers for strategic and financial investors.
This report provides illuminating insights into the phenomenon of cross-border M&A in Italy over recent years and offers a key to interpreting its future development, as increasing numbers of Italian businesses attract the interest of foreign investors.
So look no further: Italy inbound is the key.
Download PDF
Back To Listing