Publications | September 2017
Africa Forum Report – London 2017
On 21 June, we held our 4th Africa Forum London event at the Merchant Taylors Hall in the heart of the City.
This year's theme, Africa Stand Up – Vision 2025, was a chance for us to look at how Africa can positively respond to the current global uncertainties, and take advantage to position itself to rise. We had a genuinely exciting and varied menu of topics and speakers, from leading economists to rail-blazing artists and several hundred guests from a broad spectrum of African interests.
Our speakers included Ken Olisa, the current Lord-Lieutenant of Greater London and the first black director of a FTSE 100 company; Admassu Tadesse, President and CEO of the Trade and Development Bank (TDB); as well as Managing directors and CEO's Murray Grant of CDC, Lucy Quist of Airtel Ghana, Matty Vengerik of Quantum Power, Elizabeth Rosselio of BitPesa and Adebola Williams of Red Media Africa.
The Africa Forum Report - London 2017, is now available and gives us the opportunity to take honest look at what is happening on the ground from these industry-leaders who are at the heart of business on the continent.
Click here to download the full report.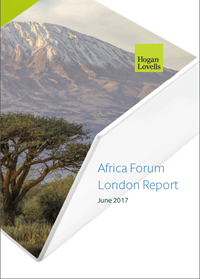 Download PDF
Back To Listing