Published Works | 08 August 2018
A view of the future: Empowering the next generation of women business leaders
We recently wrapped up another spectacular year with Dell Technologies and women business leaders from around the world at the Dell Women's Entrepreneur Network (DWEN) global summit July 15-17, 2018 in Toronto. Alongside Canadian law firm Davies Ward Phillips & Vineberg LLP, we were proud sponsors of DWEN 2018, an important platform for women entrepreneurs to expand their networks, enhance their business skills, and increase their access to sources of capital and technology.
We discussed a range of legal issues covering diverse jurisdictions with over 100 women business leaders, founders and entrepreneurs from 16 countries – such as Australia, Brazil, Britain, Canada, China, Mexico, Denmark, France, India, Israel, Japan and the U.S. – 25 different industries, and representing $4 billion in combined revenue. Hogan Lovells partners Mahvesh Qureshi, Roberta Chang, and Sahira Khwaja, and Davies partner Franziska Ruf, led a key legal session for attendees focused on data privacy and cybersecurity, immigration, IP issues, cloud computing, financing your company, and exit strategies. In addition to the legal session, our team provided complimentary legal toolkits to attendees covering relevant business issues across multiple jurisdictions.
Our commitment to the global empowerment of women and girls is one of our firm's core citizenship values. Leveraging the skills of our community, Hogan Lovells attorneys have devoted more than 75,000 hours to our Empowering Girls and Women Initiative, a program that has partnered with more than 45 nonprofit organizations, including Barefoot College (supporting female solar engineers) and Kids in Need of Defense (KIND).
The summit brought together leading entrepreneurs and thought-leaders to share knowledge and discuss issues related to building, growing and scaling their organizations for the future. We enjoyed learning from women entrepreneurs from around the world about their journeys and visions for success. The summit was a valued opportunity to engage and support the future leaders of business and industry.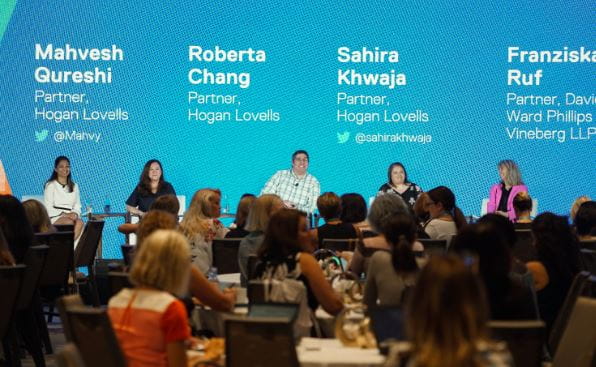 Download PDF
Back To Listing