Hogan Lovells Publications | 15 May 2020
A Comparative Guide: Impact of COVID-19 on the Infrastructure and Energy Sector
COVID-19 challenges on the infrastructure and energy sector and critical drivers of growth and sustainability
Our Infrastructure, Energy, Resources and Projects team has recently published a Global COVID-19 report that summarizes the key measures that have been introduced by governments in all of the key infrastructure and energy markets around the world, allowing easy comparisons to be made.
Countries covered

What is the benefit of our guide?
We are already seeing governments around the world adopt measures to support their energy, utility, transport and public infrastructure services and we expect this to continue. And at the same time, some fundamental changes to the nature of those businesses (including the transition to renewable energy) seem likely to move further to the fore. Governments and regulators around the world are responding to the current challenges and adopting new measures in their own ways and at different times. So, how can a participant in the infrastructure and energy markets – particularly one that operates across borders - stay abreast of these changes Our guide provides a tailor-made and easy to handle guide to check for yourself on the developments in each of the above mentioned jurisdictions and to compare these developments on a country-basis before considering your potential investments. The guide is updated on a regular basis to cover the most recent developments in each jurisdiction.
How do I receive a copy?
Should you be interested in receiving a copy, please email us here.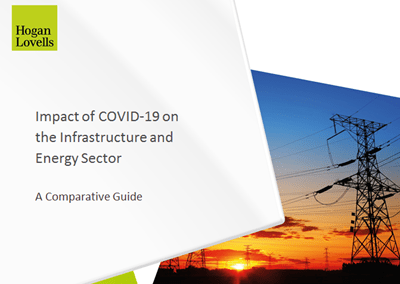 Download PDF
Back To Listing