A ride across Britain to support nature's recovery
Press releases
|
31 May 2022
London, 31 May 2022 – Global law firm Hogan Lovells is pleased to announce that Global Managing Partner for Diversity & Inclusion and Responsible Business, Susan Bright, will be cycling 1000 miles from Land's End to John O' Groats to raise money for The Wildlife Trusts' work for nature's recovery.
In 2019, Hogan Lovells selected The Wildlife Trusts as the firm's UK fundraising charity partner, supporting them with pro bono legal advice, fundraising and engagement events, and skilled volunteering, reinforcing the firm's commitment to sustainability. Given the impacts of the pandemic the fundraising partnership has been extended through to the end of 2023.
The Wildlife Trusts are working to secure nature's recovery on land and sea. Their vision is to see at least 30% of our land and seas protected and managed by 2030 by buying land to expand and join-up nature reserves, working with others to show how to bring wildlife back to their land, and by calling for nature's recovery through a new package of policy measures including big new ideas like Wildbelt. Lack of wild places and fragmentation of those that remain has had a disastrous effect on wildlife over recent decades.
Susan commented: "I've wanted to cycle from Land's End to John O'Groats for some time now. I will be doing this with friends over a couple of weeks from 12 to 25 June, to fundraise and raise awareness for our UK charity partner, The Wildlife Trusts, at the same time. The Wildlife Trusts have a big goal to restore 30% of our land and sea to nature by 2030. I love spending time outside in the wild and want to support The Wildlife Trusts to protect green spaces for future generations. I hope to visit some of their nature reserves during my cycle.
The pandemic has shown how much people value their local green spaces and how connecting with nature can support our overall wellbeing. Our partnership with The Wildlife Trusts highlights our commitment to the UN Sustainable Development Goals. We look forward to supporting The Wildlife Trusts' mission to put nature back into recovery over the coming years."
Craig Bennett, chief executive of The Wildlife Trusts, says: "I'm in awe of Susan's fantastic thousand mile challenge – and so grateful that she's taking on the task to raise funds for the wonderful work that's being done to help nature fight back. Making more space for nature to become abundant once again has never been more important – it will give our wildlife the chance to recover and restore beautiful wild places - places that store carbon and help tackle the climate crisis. Thanks so much to Susan and good luck – we're all looking forward to hearing about her adventures along the way!"
The Land's End to John O' Groats Cycle takes place from 12 to 25 June 2022. Click here to support Susan's journey to raise money and awareness for The Wildlife Trusts.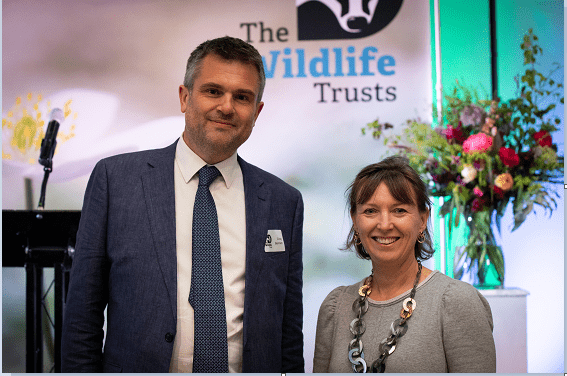 Craig Bennett, CEO of The Wildlife Trusts and Susan Bright. Photo by: Eleanor Church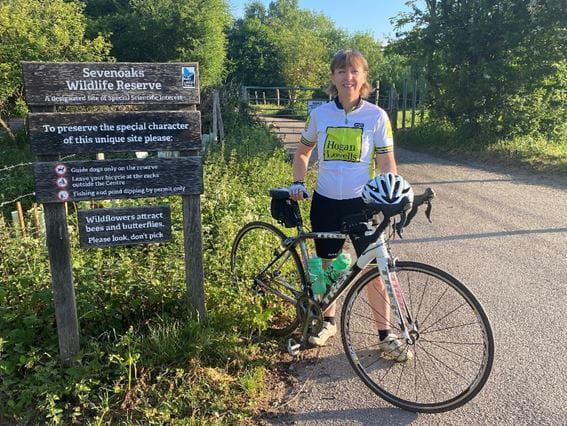 Susan on a training cycle at Sevenoaks Wildlife Reserve. Photo by: Malcolm Fisher