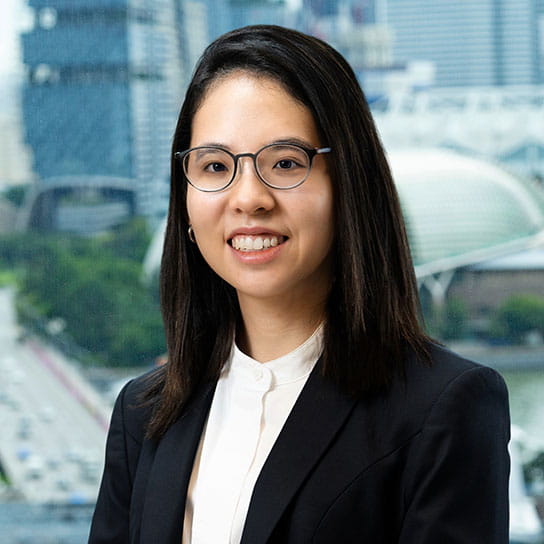 Amelia Lee is a dynamic lawyer developing a reputation as an "all-rounder" who is able to deliver optimal outcomes for her clients within challenging timelines, focussing on the big picture while not compromising on the minutiae. 
As a member of the Corporate department, Amelia has significant experience in complex cross-border mergers and acquisitions, with a particular focus on private equity matters. She also advises generally on corporate and commercial matters.
Prior to joining the firm, Amelia completed her training contract with, and practised at, the Singapore and London offices of a leading American firm.
Representative experience
Navis Capital Partners on the US$1bn sale of TES-Envirocorp Pte. Ltd., a global battery and IT lifecycle services market leader, to SK ecoplant, South Korea's leading environmental services provider.
Flipkart Private Limited on its US$3.6bn funding to accelerate the growth of the consumer internet ecosystem in India.
Navis Capital Partners on its sale of B Medical Systems, a leader in temperature-controlled storage solutions, to Azenta, Inc., a leading provider of life sciences solutions, for up to EUR460m.
Navis Capital Partners, as investor and buyer, on the acquisition of a controlling stake in a sports company with global operations in soccer, rugby and endurance sports.
Navis Capital Partners in its acquisition of a majority stake in Ambassador Education Group Co., Ltd., an operator of schools throughout Thailand.
Affirma Capital on its participation as lead investor in the US$75m Series B funding round of Beam Mobility, a micro-mobility operator which operates a fleet of e-scooters and e-bikes across APAC.
AvePoint, Inc., the world's largest independent software vendor of SaaS solutions, on its 100% acquisition of i-Access Solutions Pte. Ltd., a leading provider of web-based training solutions.
Woodward, Inc. on the purchase of the PM Control Systems Group, a leading vertically-integrated provider of energy control solutions with operations in Brazil, Indonesia and Singapore.
Advised a consortium of international funds in its bid for a Japanese company operating a platform of renewable projects in Japan and Taiwan.
Advised a consortium comprising Thai and Japanese companies in its bid for two offshore wind farms which are being developed in Taiwan.
Tyson Foods on a 49% acquisition and JV arrangements in Malayan Flour Mills Berhad (MFM), the poultry segment of the Malaysian food manufacturing company.
SpeQtral in its fundraising from Xora Innovation (a subsidiary of Temasek) and the National University of Singapore (NUS).
One of the world's largest PE funds on a funding round (conducted by way of an auction) in one of its portfolio companies, valuing that company at approximately US$1bn.*
A leading global PE fund on the sale of a significant stake in one of its portfolio companies to one of the world's largest pension funds, for approximately US$500m.*
One of the world's largest PE funds on an auction bid for a education company with branches throughout SEA, valued at approximately US$1bn.*
*Matter handled prior to joining Hogan Lovells.
Education
B.A. (Jurisprudence), University of Oxford, 2016
Memberships
Solicitors' Regulatory Association
Press releases
28 July 2021