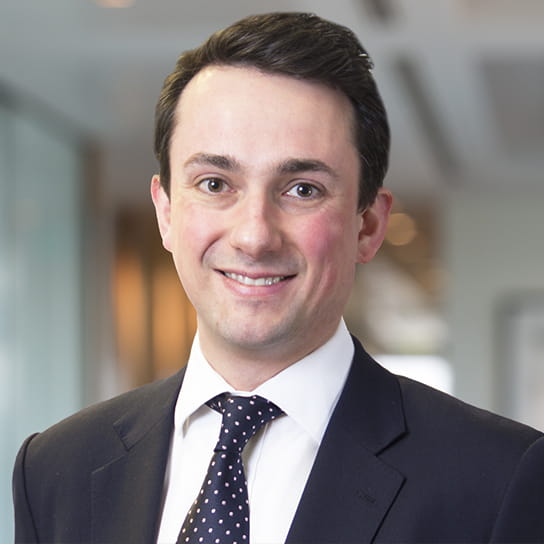 James is a counsel in the London Business Restructuring and Insolvency team. He advises banks, bondholders and corporates on multi-stakeholder restructurings, in both cross-border and domestic situations. James also advises investment banks and funds on their distressed or special situation investing and debt trading generally. He has led several loan portfolio transactions, acting for both sellers and purchasers.
James has good experience of contingency planning work, enforcement strategies and non-consensual restructuring solutions including schemes of arrangement. He also advises administrators on pre-packaged administration sales and trading insolvencies generally.
Education and admissions
Education
M.A., University of Cambridge
Representative experience
Acting for the vendor on a sale of a portfolio of c€5bn face value UK and Irish commercial real estate loans comprising 1000+ individual assets.
Acting for the liquidity facility and swap providers on the restructuring of a £1bn ground rent securitisation.
Advising a debt fund on their participation in a new money injection into the restructuring of Spanish renewables giant, Abengoa.
Advising a pan-European syndicate of lenders on the restructuring of lending to the hotel chain InterContinental Hotel.
Advising certain lenders on the restructuring of Kenyan Airways.
Advising distressed and special situation investors on the acquisition, restructuring and enforcement of NPLs.
Advising FTI as joint administrators of the 2e2 Group.
Advising lenders on the restructuring of facilities to Parabis / Plexus Law and subsequently the administrators on the pre-packaged sale of the firm.
Advising lenders on the restructuring of facilities to the David Lloyd Leisure group.
Advising numerous financial institutions on the disposal of NPL portfolios, including Lloyds Banking Group, Barclays, GE and NAMA.
Advising the ad hoc committee of bondholders on the DIP financing and restructuring of Agrokor, a Croatian food producer/retailer.
Advising the co-ordinating committee on the restructuring and sale of Hampson Industries PLC.
Advising the lenders on the restructuring of the UK's largest privately owned construction group.
Advising the senior lender syndicate on the restructuring of facilities to a major wholesale and distribution business.
Advising the senior noteholder committee in the restructuring of Mriya Agro, a Ukrainian agricultural business.
Advising the senior syndicate to Peacocks and Bon Marche, and acting for the administrators on subsequent trading administration and sale of over 900 stores.