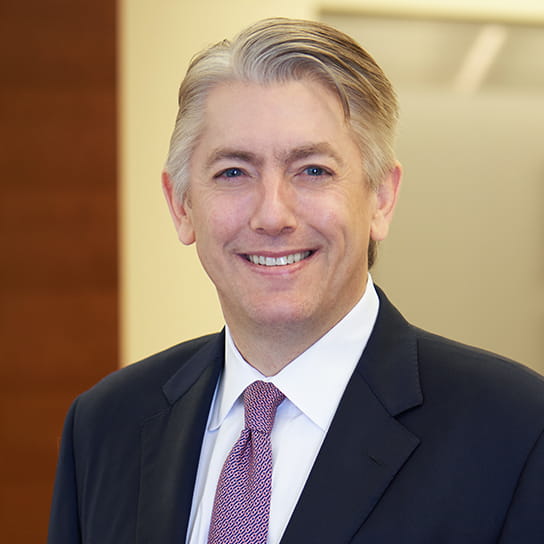 Greg Hill is a seasoned corporate lawyer who combines legal acumen, industry knowledge, and a practical approach based on his years of experience. Clients consistently rely on Greg to consummate their most challenging transactions efficiently and effectively.
For over 20 years, Greg has represented industry leaders in mergers, acquisitions, dispositions, joint ventures, partnerships, spin-offs, and other strategic transactions. This includes representing both buyers and sellers, public and private companies, as well as domestic and foreign entities. As a significant part of his practice, he represents private equity and institutional funds in initial portfolio investments (including control equity, minority equity, and mezzanine indebtedness), bolt-on acquisitions, drop-downs, and exit transactions. As a trusted advisor, Greg also counsels boards of directors with respect to fiduciary duties and corporate governance matters, and regularly represents boards and committees with respect to transactions involving conflicts of interests, and in support of internal investigations.
Over his career, Greg has represented clients engaged in a broad range of industries including diversified industrial services, petrochemical, banking and financial services, technology and telecommunications, and waste, recycling, and environmental services. As a corporate lawyer in Houston, his practice focuses significantly on the energy industry, with particular experience with respect to the midstream sector (including interstate and intrastate pipeline systems, gathering systems, offshore assets, processing facilities, storage assets, terminals, and marketing/distribution businesses), and oilfield services (ranging from traditional downhole equipment to emerging technologies).
Greg is also active in his community. For the past ten years, he has served on the board of directors of Avondale House, a not-for-profit organization that operates a school and provides residential, day habilitation, having served as Board President for six terms. He is also a Life Fellow of both the Texas Bar Foundation and Houston Bar Foundation.
Representative experience
Advised Mabanaft in a joint venture with Starwood Energy Group to non-recourse project financing for Gulf Coast Ammonia to build its world-scale anhydrous ammonia plant in Texas.
Advised energy infrastructure firm Glenfarne Group and affiliate Alder Midstream in the acquisition of IACX Energy from Haddington Ventures, and an immediate bolt-on acquisition.
Advised DCC plc on an agreement to acquire NGL Energy Partners LP's retail propane business in Western United States for US$200m.
Regularly represents private equity funds such as Platform Partners, Dos Rios Partners, and Blue Sage Capital on acquisitions, add-on transactions, dispositions, and other matters.
Advised NextEra Energy Partners on its US$2.1bn acquisition of NET Midstream (a portfolio company of ArcLight Capital).*
Represented Sterling Bancshares, Inc. in connection with its US$1bn sale to Comerica, Inc.*
Advised American Midstream in its acquisition of JP Energy, resulting in a company with combined market capitalization of US$2bn.*
Advised Eagle Rock Energy Partners, LP on its US$227m purchase of Permian-basin midstream assets from British Petroleum.*
Represented Millennium Midstream Partners, LP in its US$235.5m sale to Eagle Rock Energy Partners, LP.*
Represented Millennium Midstream Partners, LP on its recapitalization transaction with Kayne Anderson Energy Development Company and Tortoise Capital Resource Corporation.*
Represented High Point Energy, LLC in its capitalization from ArcLight Capital, and acquisition of certain GOM assets from Southern Natural Gas.*
Advised Sage Midstream, LLC on its capitalization of US$500m with Riverstone Holdings LLC and Kaiser Midstream.*
Advised Tradition Midstream, LLC on its capitalization of US$500m with Denham Capital Management, LP.*
Represented Cardtronics, Inc. in its US$135m acquisition of the ATM business from 7-Eleven, Inc.*
Represented Hall Capital in sale of SAC Wireless to Nokia Networks, named Technology, Media, and Telecom Deal of the Year at the M&A Advisor's 7th Annual International M&A Awards.
Represented independent committee of the board of directors of Triton, LLC with the roll-up formation of Forum Oilfield Technologies, Inc., a portfolio company of SCF Partners.*
Represented independent committee of the board of directors of Dobson Communications Corporation in connection with its US$5.1bn sale to AT&T, Inc.*
Represented independent directors of Nuevo Energy Company in connection with its US$594m sale to Plains Exploration and Production Company.*
Represented independent directors of Cyberonics, Inc. in connection with stock option back dating investigation and subsequent proxy fight.*
Advised boards and audit committees in internal investigations addressing the FCPA, back-dating of stock options, accounting issues, misconduct by management, and fraud.
*Matter handled prior to joining Hogan Lovells.
Education
J.D., Vanderbilt Law School, 1993
B.A., Texas Christian University, with departmental honors, 1990
Bar admissions and qualifications
Memberships
President, Board of Directors of Avondale House
Life Fellow, Houston Bar Foundation
Life Fellow, Texas Bar Foundation
Energy: Oil and Gas (Transactions)
Legal 500 US
2018-2019
M&A/Corporate and Commercial: Private Equity Buyouts
Legal 500 US
2019
Press releases
14 November 2023
Press releases
09 January 2020
Press releases
16 December 2019
Sponsorships and Speaking Engagements
24 October 2019