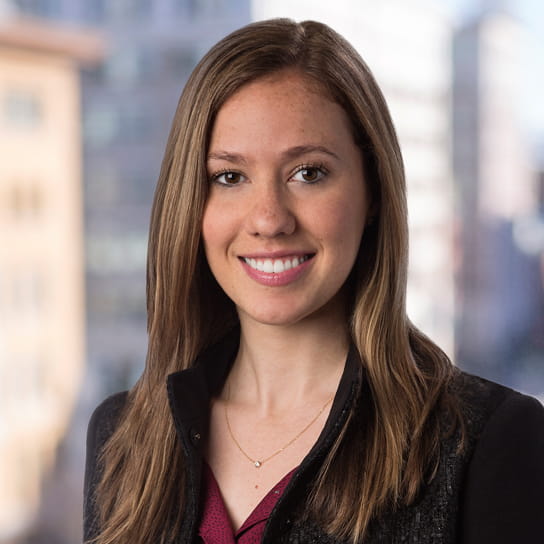 Hannah Graae advocates for clients on environmental and safety matters. Armed with a master's degree in environmental science and policy, Hannah recognizes her clients' needs and the obstacles that stand in their way.
She provides them with regulatory compliance counseling, transactional diligence, and advocacy before courts and federal agencies. Her clients span many industries, including health care, technology, chemical, oil and gas, transportation, utilities, manufacturing, defense, and agriculture.
She regularly assists clients on matters involving federal and state courts, departments, and administrative agencies, including the Environmental Protection Agency (EPA), U.S. Fish and Wildlife Service (FWS), National Highway Traffic Safety Administration (NHTSA), Pipeline and Hazardous Materials Safety Administration (PHMSA), and Office of Surface Mining.
Hannah has broad knowledge of the laws that govern environmental policy, including the Clean Air Act; Clean Water Act; Endangered Species Act; Resource Conservation and Recovery Act; Comprehensive Environmental Response, Compensation, and Liability Act; Federal Insecticide, Fungicide, and Rodenticide Act; Surface Mining Control and Reclamation Act; and National Historic Preservation Act.
Hannah also counsels clients on responding to enforcement actions and information requests (including asserting and substantiating business confidentiality claims), compliance with new and existing environmental laws, submitting requests and responding to proposed disclosures under the Freedom of Information Act, and drafting comments on agency rulemakings.
While in law school, Hannah submerged herself in environmental policy matters as the executive editor of the Duke Environmental Law and Policy Forum. She also completed two semesters of work at the Duke Environmental Law and Policy Clinic.
Representative experience
Drafting legal and technical comments on the Office of Surface Mining Reclamation and Enforcement's proposed Stream Protection Rule.
Assisting a product manufacturer on responding to an information request from the EPA.
Advising clients on federal and state pharmaceutical waste requirements and a regulatory compliance strategy for reverse distribution operations.
Conducting transactional diligence in connection with a multi-billion dollar merger of two aerospace and defense companies.
Education
J.D., Duke University School of Law, magna cum laude, 2013
M.A., Duke University Nicholas School of the Environment, 2013
B.S., University of Wisconsin, 2008
Bar admissions and qualifications
District of Columbia
Maryland
2020
Rising Stars Under 40
Law360
2021
Transport: Rail and Road – Litigation and Regulation, Recommended
Legal 500 U.S.