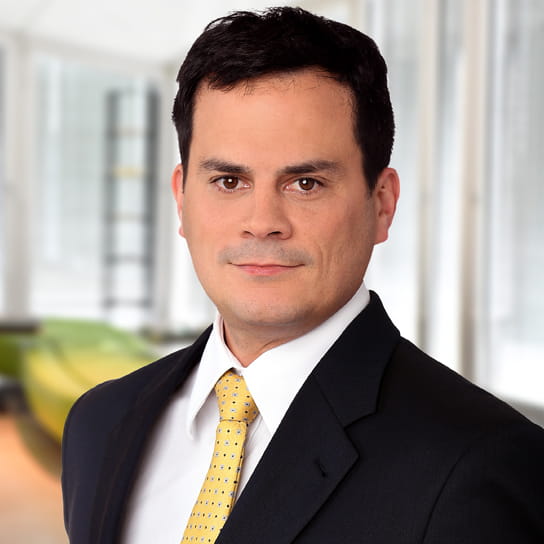 Dr. Felipe Zilly
Counsel/Patent AttorneyDusseldorf
Mobile communications, chip technology and mechanics specialist Oliver Bäcker and patent lawyer Felipe Zilly, whose special areas of expertise include life sciences as well as mechanics- and telecoms-related issues, made counsel in January 2020.

Legal 500 Germany, 2022
Felipe Zilly is a patent litigator at our global patent litigation practice. As a fully qualified German and European Patent Attorney he advises clients on patent infringement and validity proceedings.
He focusses on national and European patent litigation and invalidation proceedings before the Federal Patent Court and European Patent Office, especially in the area of chemistry, life sciences, pharmaceuticals, medical devices, and production processes. In addition, he has experience in matters relating to mechanics and telecommunications.
Another focus of his practice is the preparation of legal opinions on technical property rights, freedom-to-operate analyses and expert opinions as part of due diligence in M&A projects.
After graduating in biochemistry with an emphasis on cell biology and physical chemistry, Felipe focussed his doctoral studies at the Max Planck Institute for Biophysical Chemistry on molecular neuroscience and his post-doctoral studies at the Max Planck Institute for Coal Research in Mülheim an der Ruhr, on directed enzyme evolution for organic synthesis. Prior to joining Hogan Lovells, Felipe worked as an in-house patent attorney for a big multinational consumer goods company based in Dusseldorf. He was responsible for all patent matters in connection with specific consumer products, their production processes, and related IoT devices.
Awards and recognitions
2021
Recommended lawyer for Patent Litigation
Legal 500 Germany
2020
Listed as Rising Star
Managing Intellectual Property IP STARS
2021
Listed as Notable Practitioner Managing Intellectual Property
IP STARS
2022
Recommended lawyer for Patent Law: Dispute Resolution
Legal 500 Germany
Education and admissions
Education
Business Chemist (MSc equiv.), University of Hagen, 2015
Doctor of natural sciences, University of Göttingen/Max Planck Institute for Biophysical Chemistry, 2006
Biochemist (MSc equiv.), Ruhr-Universität Bochum, 2002
Memberships
Chamber of Patent Attorneys
European Institute of Representatives before the European Patent Office
Fédération Internationale des Conseils en Propriété Industrielle
DECHEMA
VAA
European Patent Litigators Association (EPLIT)
Representative experience
Assisting over several years a world leading Swiss pharmaceutical company with the enforcement and defence of a fundamental patent regarding the first approved antibody cancer treatment.
Assisting in the development of a European patent enforcement strategy for a world leading pharmaceutical company against biosimilar manufacturers.