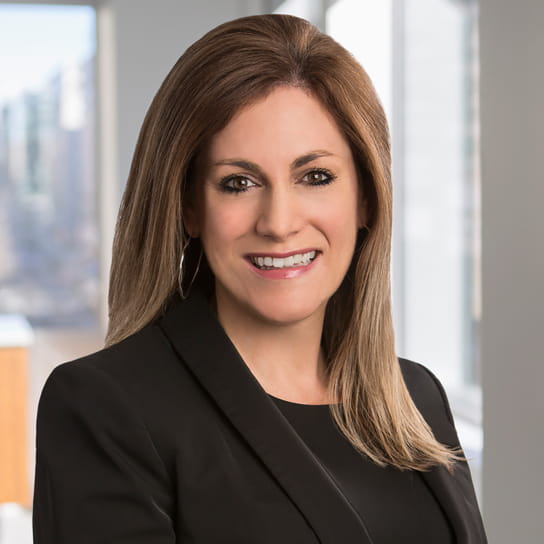 Elizabeth Donley is Co-Head of U.S. M&A at Hogan Lovells. Commended by Chambers USA and Legal 500 US for her strength in "advising on strategic transactions," Elizabeth is a trusted advisor to U.S. and international companies on their most complex and commercially strategic domestic and cross-border transactions. For more than 20 years she has represented clients across a range of transactions, including mergers and acquisitions, divestitures, carve-outs, asset purchases and sales, investments, joint ventures, strategic alliances, technology licenses, and complex commercial arrangements.
Elizabeth works with clients in a variety of industries, including industrials and consumer goods; aerospace and defense; government services; automotive; technology and media; health and life sciences; real estate; and hospitality. Elizabeth invests time to get to know and fully understand her clients' organizations, businesses, and industries to provide effective and complementary advice tailored to fit the objectives of the matter at hand. She collaborates daily with regulatory and compliance professionals at Hogan Lovells – as well as subject matter advisors in critical areas – to bring the right resources and perspectives to each project.
Recognized as an Acritas Star and a BTI Client Service All-Star, Elizabeth is known for her commitment to client service, working "night and day to meet deliverables," and her collaborative style of leadership and direct approach to finding and implementing practical, commercial solutions to challenging problems.
Representative experience
PPG Industries on its US$1.15bn acquisition of global coatings manufacturer Ennis-Flint.
Lockheed Martin Corporation on the combination of its IT and Technical Services businesses with Leidos in a $5.0bn Reverse Morris Trust transaction.
FLIR Systems, Inc. on its US$8bn sale to Teledyne Technologies Incorporated in a cash and stock merger transaction.
Greystar Real Estate Partners on its US$4.6bn acquisition of EdR and US$1.2bn sale of a portfolio of student housing communities to a Blackstone Real Estate Income Trust, Inc./Greystar joint venture.
BWX Technologies on its acquisitions of Cunico Corp. and Dynamic Controls Ltd. and on the sale of its commercial nuclear services business to Framatome.
Caldic B.V. on its acquisitions of Brand-Nu Laboratories Inc. and BNL Sciences Ltd., distributors of specialty chemicals for the pharmaceutical and biopharmaceutical industries.
Sojitz Corporation on its joint venture with Braskem S.A., to produce and market bioMEG (monoethylene glycol) and bioMPG (monopropylene glycol).
Covestro AG on the sale of its additive manufacturing business to US-Israeli Stratasys Group.
Prologis, Inc. on its sale of a US$1.1bn portfolio of properties in the U.S. and Europe to Mapletree Investments.
PPG Industries on its acquisition of global coatings manufacturer Whitford Worldwide Company, automotive coatings manufacturer Hemmelrath and global coatings manufacturer Wörwag.
Lockheed Martin on its acquisition of the Hypersonics portfolio of Integration Innovation Inc. (i3).
Caldic B.V. on its acquisition of Avatar Corporation, a value-add distributor of specialty food ingredients and custom solutions, and CAIF, a premium supplier of naturally sourced ingredients.
PPG Industries on its US$2.3bn acquisition of Consorcio Comex, S.A. de C.V. and its US$1.05bn acquisition of the North American architectural coatings business of Akzo Nobel, N.V.
PPG Industries on the sale of its European and global fiber glass operations to glass manufacturer Nippon Electric Glass Co. Ltd.
Honeywell International on its acquisition of RSI Video Technologies, a leading global provider of intrusion detection systems.
ITV plc on various U.S.-based corporate and commercial transactions.
KPP Trustees Ltd. on its acquisition of Eastman Kodak Company's Personalized Imaging and Document Imaging businesses.
Barcelo Crestline Corporation on the formation of various hospitality-related joint ventures and Playa Hotels & Resorts on the acquisition of various hotels and resorts in North America.
Martinrea International, a global automotive supplier of parts, assemblies and modules, complex fluid management systems, and aluminum products, on acquisitions in North America.
Unisplendour Corporation on its proposed US$3.775bn equity investment in Western Digital Corporation and the termination of the investment.
Education
J.D., Vanderbilt Law School, 1998
B.A., University of South Carolina, Phi Beta Kappa, magna cum laude, 1994
Bar admissions and qualifications
2022
District of Columbia : Corporate/M&A and Private Equity
Chambers USA
2017, 2020,2021
M&A/Corporate and Commercial: M&A: Large Deals ($1bn+)
Legal 500 US
2017-2020
Acritas Star
Acritas Stars Independently Rated Lawyers
2016, 2019
BTI Client Service All-Star
BTI Consulting Group