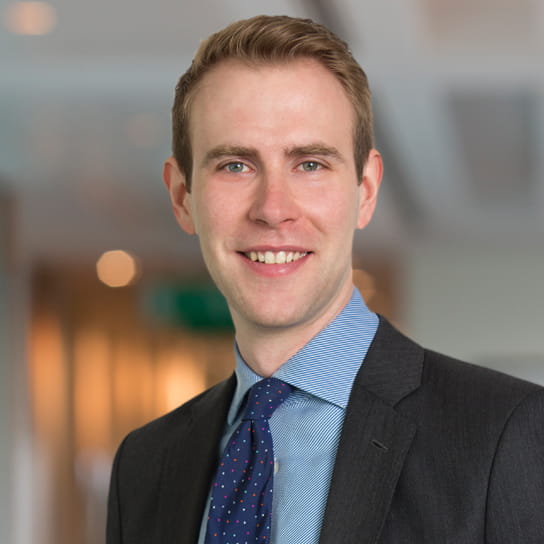 David Wood
Senior AssociateLondon
Since joining our planning team in 2013, David has developed a diverse practice advising developers, investors and local authorities on all types of planning issues. David takes a particular interest in energy and infrastructure work and acts for promoters of nationally significant infrastructure projects and parties affected by them. David advises on development consent projects from start to finish. His work includes legal audits of applications, drafting development consent orders, policy analyses and compulsory acquisition information, and carrying out advocacy at hearings. David's experience in acting for both developers and interested parties has given him a strong understanding of the competing agendas and priorities in this field. Compulsory acquisition can be a vital tool to facilitate infrastructure projects and large-scale urban regeneration schemes.
Equally, the human rights and compensation implications mean that its use is often highly contentious. David acts for claimants and acquiring authorities and has experience advising on strategy, procedure and at inquiry. With planning and housing at the forefront of the Government's growth agenda, David has advised a number of developers on large scale residential developments, urban extensions and development on strategic greenfield sites.David's work includes advising on environmental impact assessments, application strategy and contentious work at planning inquiries and in the High Court. David has a keen interest in the strategic and political side of planning and has experience advising on neighbourhood plans, heritage issues and assets of community value, each of which is an increasing concern for a number of developers.
Education and admissions
Education
M.Phil., University of Cambridge, 2006
B.A. (Hons), University of Durham, 2005
Court admissions
Senior Courts of England and Wales
Representative experience
Advising Thorpe Marsh Power on a gas pipeline application under the NSIP regime, including drafting the DCO and carrying out advocacy at oral hearings.
Strategic advice to the operator of an energy from waste facility whose operations are likely to be affected by a proposed NSIP development.
Advising on the acquisition of various energy projects, including an 842MW power plant and pipeline, an offshore wind farm demonstrator project and numerous solar farms.
Advising Land Securities on its proposed residential development of a strategic greenfield site in the east of England, including acting at co-joined, called-in planning inquiries.
Advising Hermes on its asset management and redevelopment proposals at thecentre:mk in Milton Keynes, including on heritage and community right to bid issues.
Advising various investors and pension funds on planning issues arising on the acquisition and disposal of major real estate portfolios.