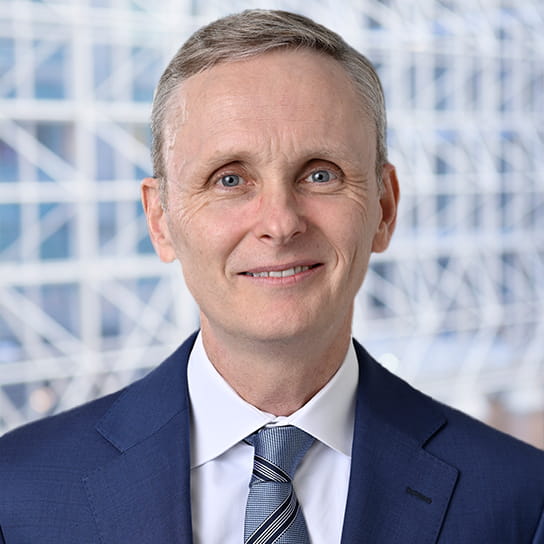 Brian Curran has been operating in the U.S. national security sphere for more than 20 years, first as a 10-year veteran of the U.S. Intelligence Community (IC) and now as a partner at Hogan Lovells focused on national security reviews conducted by the Committee on Foreign Investment in the United States (CFIUS).
Brian represents a wide variety of clients before CFIUS, including foreign multinationals, private equity investors, and family offices around the world, including in China, Israel, Singapore, Japan, France, Spain, Luxembourg, the Netherlands, Germany, Australia, Canada, and the United Kingdom. He also represents U.S. companies before CFIUS – from technology start-ups to large, publicly traded companies.
Brian's clients operate in a variety of sectors, including life sciences, social media, aerospace and defense, telecommunications, cybersecurity, and semiconductors. Brian assists clients in securing CFIUS clearance, negotiating and complying with mitigation agreements imposed by CFIUS, and navigating the rules ushered in by the Foreign Investment Risk Review Modernization Act of 2018 (FIRRMA) and its implementing regulations.
Brian also represents clients on export controls issues before the Commerce Department's Bureau of Industry and Security (BIS) and the State Department's Directorate of Defense Trade Controls (DDTC). Brian advises companies on a wide variety of export control issues, including mergers and acquisitions due diligence, export classifications, licensing, internal investigations, and voluntary disclosures.
Representative experience
Represented a major French transportation company before CFIUS in connection with its investments in two joint ventures.
Represented a Chinese investor before CFIUS in connection with the largest proposed Chinese acquisition of a U.S. company at the time.
Represented JX Nippon Oil & Gas Exploration Corporation before CFIUS in connection with a carbon capture and CO2-enhanced oil recovery project.
Advised universities and Internet and telecommunications companies on the export control implications of cyber attacks and cloud computing.
Conducted in-depth trade compliance audits for a major U.S. defense contractor.
Represented a U.S. electronics company in a complex multijurisdictional export control internal investigation.
Education
J.D., The George Washington University Law School, with high honors, Order of the Coif, 2006
M.A., American University, School of International Service, Fellowship Recipient, 1995
B.A., College of William & Mary, 1992
Bar admissions and qualifications
District of Columbia
Virginia (inactive)
Dispute Resolution: International Trade, Next Generation Partner
Legal 500 US
2017-2022
International Trade: CFIUS Experts (Nationwide)
Chambers USA
2021-2022
Dispute Resolution: International Trade, Recommendation
Legal 500 US
2018-2022
International Trade: CFIUS Experts, Recognised Practitioner (Nationwide)
Chambers USA
2019
International Trade: CFIUS Experts (USA)
Chambers Global
2023
Webinar
14 September 2023 | 10:00 a.m. - 11:00 a.m. (CST) | 11:00 a.m. - 12:00 p.m. (JST) | 12:00 p.m. - 1:00 p.m. (AEST) | 10:00 p.m. - 11:00 p.m. EDT (Wednesday, 13 September 2023)
Sponsorships and Speaking Engagements
13 April, 2023| 2:00 p.m. (EDT)
View more events