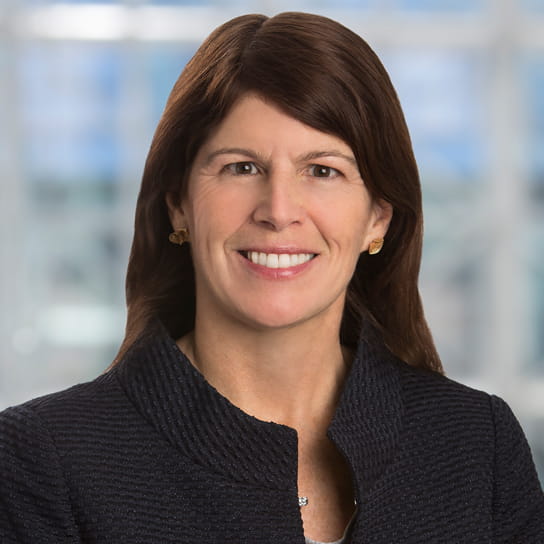 Recognized by Chambers and Legal 500, Beth Peters has over 30 years of experience advising clients on international trade and immigration matters. Beth is the former Co-Director of our International Trade and Investment Group, and is on the Global Regulatory and Intellectual Property Leadership team and the firm's Global DEI Committee.
Beth advises clients on the full range of international trade laws, including export control, cyber, national security, sanctions, customs, anti-boycott, and anti-money laundering/USA Patriot Act regulations. She also has a wealth of experience handling immigration matters and assessing cutting-edge technology transfer and deemed export issues.
Beth advises financial institutions and universities, as well as telecommunications, satellite, engineering, chemical, defense, life science, and other companies in complying with the International Traffic in Arms Regulations (ITAR), Export Administration Regulations (EAR) and nuclear export controls, including complicated compliance, licensing, and enforcement matters. She assists financial institutions, universities, and companies on economic sanctions and anti-money laundering compliance matters.
Leading publications note, "Beth Peters has 'an encyclopedic knowledge of U.S. laws and excellent experience of their application outside the USA' and 'clients recommend her as a highly skilled and efficient practitioner,'" (Chambers USA); "first-class in export procedures work" (Chambers Global); "Beth is the one with the most 'secret sauce,' that almost ineffable quality that transcends subject matter competency and business judgment to make a practitioner more than the sum of her parts. Maybe it's her emotional intelligence, but Beth has a quality that puts clients at ease even when faced with significant compliance challenges." (World Export Control News Awards Export Control Practitioner of the Year); 25 most respected sanctions attorneys in D.C. (Global Investigations Review); "good relations with high-ranking government officials and is consequently a go-to practitioner for clients seeking strategic and nuanced advice relating to export controls and sanctions." (Legal 500 US Leading Lawyer and Legal 500 Hall of Fame).
Representative experience
Work with clients to develop risk-based trade compliance programs, including conducting audits and implementing training programs.
Help companies to classify goods, technology, and software and obtain licenses and classifications under the EAR, ITAR, and nuclear export controls.
Counseled insurance companies, including property, casualty, marine, and life lines on sanctions enforcement under OFAC and state regulations.
Advised financial institutions on export control, AML, anti-boycott, and sanctions issues in fund transfers, handled training, audits, and disclosure.
Advised companies and universities regarding export control and immigration laws including anti-descrimination provisions as well as deemed exports of technology and software source code.
Counseled top U.S. research universities on sanctions, including campuses and activities and obtained OFAC licenses.
Education
J.D., Columbia Law School, 1990
B.A., Duke University, 1987
Summer Program, Oxford University, 1985
Bar admissions and qualifications
District of Columbia
New York
Memberships
Former Co-Chairman, International Trade Committee, District of Columbia Bar
Former Advisor, Law 360 International Trade Editorial Board, 2013-2014
Member, American Bar Association
Member, American Immigration Lawyers Association
Member, International Compliance Professionals Association (ICPA)
Member, National Association of College and University Attorneys (NACUA)
Member, Society of International Affairs
International Trade: Export Controls & Economic Sanctions (Nationwide), Rank 1
Chambers USA
2014-2022
Trade & Customs: International Sanctions, Global Elite Thought Leader
Who's Who Legal
2021
Dispute Resolution: International Trade, Hall of Fame
Legal 500 US
2018-2022
International Trade: Export Controls & Economic Sanctions (Nationwide), Rank 1
Chambers USA
2010-2022
Dispute Resolution: International trade, Recommended
Legal 500 US
2020
Trade & Customs: International Sanctions, Recommended
Who's Who Legal
2020
Labor and Employment: Immigration
Legal 500 US
2007-2019
25 Most Respected Sanctions Lawyers in Washington, D.C.
Global Investigations Review
2019
International Trade/WTO (International Firms) (Expertise Based Abroad)
Chambers Global
2019
Immigration (District of Columbia), Recognised Practitioner
Chambers USA
2019
Dispute Resolution: Corporate Investigations and White-Collar Criminal Defense
Legal 500 US
2019
Dispute Resolution: International Trade, Leading Lawyer
Legal 500 US
2008-2018
2016 Export Control Practitioner of the Year – Runner-Up
WorldECR Award
2016
2015 Export Control Practitioner of the Year – Highly Commended
WorldECR Award
2015
Top Lawyers
Washingtonian Magazine
2007, 2013
Immigration (District of Columbia)
Chambers USA
2006-2013
International Trade: Trade Remedies and Trade Policy (USA)
Chambers Global
2010
International Trade: Trade Remedies & Trade Policy (Nationwide)
Chambers USA
2009
Legal Elite
Virginia Business Magazine
2005
International Trade: Export Controls & Economic Sanctions (USA), Rank 1
Chambers Global
2023
Awards & rankings
12 July 2023
Awards & rankings
11 October 2022
Awards & rankings
02 June 2022
View more press releases
Sponsorships and Speaking Engagements
25 - 26 April 2023 | 8:30 AM - 5:00 PM (ET)
Sponsorships and Speaking Engagements
27 January 2021
Hogan Lovells Events
24 October 2019 | 9:00 AM - 5:00 PM (EST)
View more events