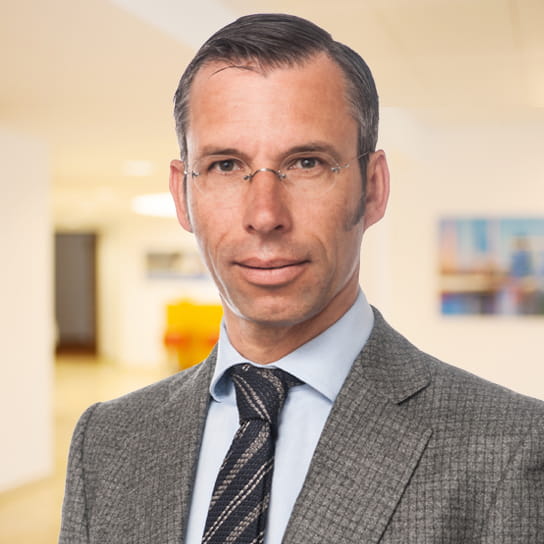 Litigator Detlef Hass wins praise from sources for his work on insolvency litigation. Clients appreciate his strategic approach, saying: "He thinks sharply and thinks round the corner to get what you need."

Chambers Global, 2015
Detlef Hass is a commercial litigation partner, who has supported trials in more than 20 countries and led more than 100 hearings in Germany.
For the most complex B2B disputes, senior litigator Detlef will bring specific experience to the table. Widely recognized as a pioneer in the German market, Detlef and his team have developed best practice over the years how to approach high profile commercial conflicts with clients, judges and other parties involved.
He has supported trials in more than 20 countries in Europe, Latin America and Asia and tried more than 100 court hearings in Germany as lead trial lawyer. Detlef is known for translating complex facts to judges and is a market leader in automotive-related disputes and insolvency cases. Whether it is supply chain disruption, clawback in insolvency, white collar crime for businesses, asset tracing, anti-trust damages or post-M&A, Detlef will have dealt with similar cases in his more than 20 years of experience. He is at home in the automotive industry and technology industry.
Best Lawyers™ includes Detlef in the latest 2019 Edition of Best Lawyers™ in Germany for Bet-the-Company Litigation. He "impresses with his expert handling of sophisticated commercial disputes" (Who's Who Legal, 2019) and is frequently recommended for commercial litigation and liability (JUVE Handbook, 2017/2018).
Clients perceive him as "an accomplished litigator, boasting expertise in insolvency, supply chain, cyber-crime and cartel disputes" (Chambers Europe, 2018), and regard him as a "leader in the field and strong litigator with a comprehensive knowledge of the German market" (Who's Who Legal, 2018).
Detlef heads the firms' global industry group Diversified Industrials. He is admitted as Rechtsanwalt in Germany and as Solicitor in England and Wales. He is active in pro bono and citizenship matters.
Awards and recognitions
2015
Law Firm of the Year Dispute Resolution (Team-Award)
JUVE handbook
Education and admissions
Education
University of Regensburg
University of Bonn
LMU Munich (Ludwig-Maximilians-Universität München)
Court admissions
England and Wales
Germany
Representative experience
Advising the largest Irish property investor on disputes with strategic cooperation partners and insolvency administrators in connection with the insolvency of a German investment company.
Representing an international high-tech company with regard to divestments in connection with insolvency; defence against several rescission proceedings.
Acting for a Russian conglomerate in complex arbitration involving the defences of validity of call option exercise, misappropriation of funds and money laundering and breach of trust on the other part; working closely with the German public prosecutor and BKA to investigate the facts and explore opportunities to seize assets.
Representing a large Asian high-tech company in an ICC arbitration in connection with a post-M&A dispute on purchase price adjustment, representations and indemnifications following the acquisition of a business unit from Siemens. The case was the biggest case in value which the ICC entertained in 2007/2008.
Representing the insolvency administrator of a globally acting technology company in connection with claims against the parent under principles of German stock corporation law as well as clawback claims against a US investor in connection with the sale of a joint venture.