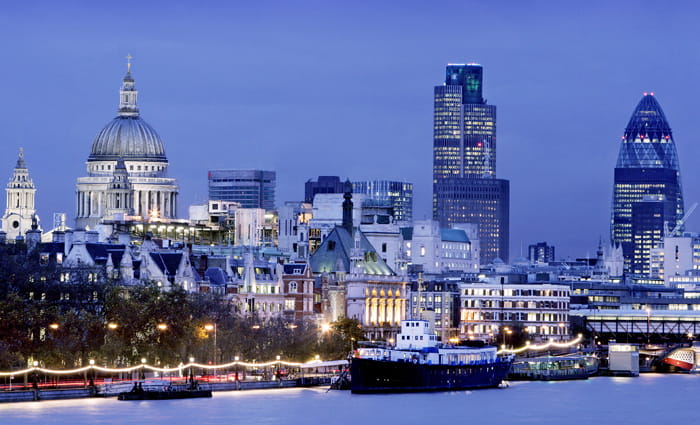 London
Hogan Lovells International LLP
Atlantic House
Holborn Viaduct
London EC1A 2FG
United Kingdom
London has a reputation as an important center for financial services, corporate transactions, and disputes. And so do we.
Our London office is a critical part of our global business. We are the firm's single largest office and we act for the world's largest corporations and financial institutions. We understand the city, we know the regulators, and we are accomplished at working in highly regulated sectors, such as financial services, energy, and life sciences.
We make deals happen and we test the law. Our work on market-leading complex transactions regularly places us in the top M&A adviser league tables. And our strategic advice in high-profile disputes has clarified English law and set precedents for future cases.
A huge proportion of our work in London is multijurisdictional and we do it seamlessly.
We also focus on efficiency, leading the way in legal project management, legal process outsourcing, and our use of technology. Our Birmingham office reflects our commitment to broaden our offering and provide innovative and cost-effective solutions for the delivery of legal services.
The same goes for our pro bono clients. From advising on significant pro bono matters, such as landmark war pension rulings, to participating in community work and charitable fundraising, we make a difference.
Key contacts
Lawyers by practice group
Take our anti-bribery and corruption test to gauge your organization's compliance regime.
Our report examines trends and projects what might happen under a given set of circumstances in a given country at a given time.
Representative experience
Advising Alstom on disposal of its €12.4bn energy business to GE, its €700m acquisition of GE's Intelligent Transportation Solutions, and subsequent establishment of JVs in 3 energy sectors.
Advised SABMiller on its US$107bn takeover by Anheuser-Busch InBev, the largest ever takeover by value of a UK public company.
Advised UK Export Finance on capital markets aspects of US$913m Sukuk issuance for acquisition of 4 Airbus A380-800 aircraft. First UK government-supported Sukuk for aircraft financing.
Acted as lenders' counsel on US$530m pre-export facility to Uralkali. First international syndicated loan facility made available to a Russian company in 2015.
Advised China's HNA Group on c.€1.5bn debt and equity financing in conjunction with the acquisition of the Swissport Group.
Advised Paysafe Group plc (formerly Optimal Payments Plc) on its €1.1bn reverse takeover of Skrill and its related £450m rights issue.
Advised NewsCorp on its £114m acquisition of global ad platform Unruly, a leading programmatic platform for social video advertising.
Advised Mitsubishi Heavy Industries on the transformational global joint venture of Mitsubishi-Hitachi Metals Machinery, Inc. and the metal manufacturing technology division of Siemens.
Advised Braeburn Estates Limited, a joint venture between Canary Wharf Group and Qatari Diar, on the redevelopment proposals for the Shell Centre.
Acting for BTA Bank in one of the biggest fraud cases to have ever come before the English courts (US$10bn claim).
Advising the Trustee of the Nortel Networks UK Pension Plan and the Board of the Pension Protection Fund in the largest and most complex pension deficit recovery exercise ever taken.
Acting on behalf of the DIA, the liquidator of Mr. Pugachev's former bank Mezhprombank, which collapsed in 2010 with a deficit of more than US$2bn.
Successfully defending the Government of Vietnam in separate UNCITRAL arbitrations under bilateral investment treaties in claims worth around $4bn.
Advising Merck & Co., Inc. (Kenilworth, New Jersey, USA) in a trademark, domain name, and social media dispute with Merck KGaA. over the use of the name "Merck" in Germany, France, the UK, and the U.S.
Acting in infringement and revocation actions between HTC and several multinational companies on patents asserted in Germany, UK, France, Italy, Netherlands, and Japan.
Assessing Uber's customer data privacy program and providing recommendations for enhancement, with the resulting report being published on the company's blog.
Representing Trinity Mirror in relation to the settlement of the CMA's Competition Act 1998 investigation. This was the CMA's first Competition Act decision and settlement.
Represented Air Canada on its successful appeal of the EU Commission's air cargo cartel decision and in damages litigation in the U.S., UK, Germany, and The Netherlands.
Ranked second in the Most Innovative Law Firms in Europe category
FT Innovation Awards, 2017
Most Innovative Law Firm in Dispute Resolution
FT Innovative Lawyers Award, 2015
Ranked as one of the top five most innovative law firms in Europe
FT Innovative Lawyers Awards, 2015
Latest thinking and events
Hogan Lovells Publications