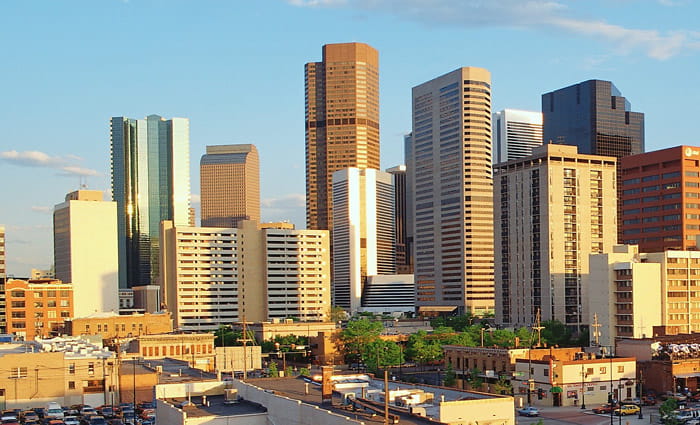 Denver
Hogan Lovells US LLP
1601 Wewatta St.
Suite 900
Denver, CO 80202
United States
Fortune 500 businesses, venture-backed start-ups, and emerging technology companies all rely on Hogan Lovells in Denver to handle their complex business transactions. As one of the largest legal practices in the Rocky Mountain region, we provide clients access to a strong combination of local, national, and global knowledge.
We are at the forefront of events shaping the region. We work at the intersection of law and public policy. We help clients develop innovative public finance strategies to complete large-scale projects such as international airports, major sports arenas, educational facilities, and highway systems. We advise energy and power companies, utilities, independent power producers, coal producers, renewable energy developers, and capital providers on all aspects of project development on private and public land.
Chambers USA consistently ranks Hogan Lovells among the top Colorado law firms for corporate/M&A, environmental and natural resources, intellectual property, labor and employment, and litigation.
Key contacts
Lawyers by practice group
Primary Practices and Industries
Representative experience
Advised MarkWest Energy Partners, L.P. on numerous acquisitions, divestiture and joint venture transactions, with deals sizes ranging from US$200m to over US$1bn.

Advised CIBER, Inc. on the US$40m sale of all of the assets of its Federal Division to CRTG Inc., a portfolio company of Veritas Capital

Represents Anschutz Entertainment Group in numerous strategic and joint venture transactions.

Advised Regal Entertainment Group on a US$244.35m tender offer for its 9.125% Senior Notes due 2018 and Regal Cinemas Corporation's 8.625% Senior Notes due 2019.

Advised OtterBox on the acquisition of 100% of the outstanding equity interests of TreeFrog Developments, Inc. d/b/a LifeProof.

Represented Kroenke Sports in building and privately financing the Pepsi Center arena, including drafting and negotiating the revenue agreements, lease documents.

Represented natural gas producers in permitting, enforcement, and rulemaking associated with emissions of air pollutants from oil and gas production activities.

Represented a leading domestic ethanol producer in connection with its operational, financing, and U.S. Securities and Exchange Commission compliance needs.

Representing a major North American energy producer in the US$150m acquisition of a refinery, several pipelines, and 43 gas stations in Colorado.

Representing a state university in the West in its joint venture with a major electric company to develop advanced coal gasification technology.

Representing Netflix in a District of Delaware litigation and Inter Partes Review of a patent related to video streaming and encryption technology.

Representing 21st Century Fox in all of this conglomerate-wide technology and licensing transactions and on contractual issues associated with data security, privacy, and content management.

Represented one of the world's leading smart phone and computer companies in several patent litigation matters in the Eastern District of Texas.

Represented a leading headphone company in multiple patent cases before the International Trade Commission involving digital signal processing used in active noise cancellation.

Represented DaVita in negotiating a global settlement of a Federal Grand Jury investigation and civil suit under the qui tam provisions of the Federal False Claims Act.

LG Electronics and its U.S. subsidiaries in a putative class action alleging defects with certain commercial air conditioners mostly used in hotels and motels pending against the companies in the Eastern District.

Band 1 in Natural Resources and Environment
Chambers USA, Colorado, 2015
9 Colorado-based lawyers named to Top Lawyers list
5280 Magazine, 2015
Jennifer Biever named to Who's in Energy list
Denver Business Journal, 2014
Latest thinking and events
Hogan Lovells Publications
Energy and Natural Resources Alert
Hogan Lovells Publications
Environment Alert