Jeffrey S. George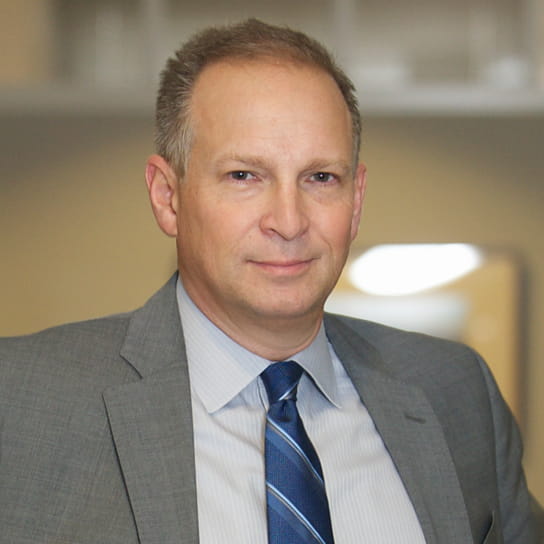 Starting his career as a trial lawyer more than 25 years ago, Jeff George has developed his civil litigation and litigation avoidance practice to cover all forms of contractual and commercial matters, with a significant emphasis on construction, real estate/development, and licensing matters.
Jeff's extensive experience with how things can go wrong after deals are inked allows him to identify risks and prevent problems by addressing them up-front with clear risk-shifting provisions at the contract negotiation stage.
Once disputes do arise, Jeff quickly becomes a strategic problem-solving advocate to help clients resolve their disputes in an efficient, cost-effective, and reasonable manner. Jeff has helped clients attain resolutions through early mediations, negotiations, and summary proceedings.
For those disputes involving an adverse party acting unfairly and unreasonably, and where a trial on the merits is the only practical option for the client, Jeff has litigated cases to verdict and/or judgment before the federal and state courts in several states, as well as before judicial arbitrators.
Jeff has represented clients in numerous industries including construction, healthcare, hotel/hospitality, manufacturing, real estate, real estate information services, skiing/snowboarding resorts, amateur, and professional sports, and technology.
Jeff is an active member of the community, having served as a board member of several charitable organizations, including Pikes Peak Hospice Foundation, March of Dimes, and Junior League of Colorado Springs Advisory Committee.
Representative Experience
After a January 2015 arbitration, won an award in a sales agreement dispute, dismissing a claim for US$21.5m and granting counterclaim for US$1m.
After a January 2014 arbitration, won a US$1.3m award in a construction matter for a large Denver commercial retail property.
After a July 2012 jury trial, obtained a complete defense verdict in favor of clients accused of securities fraud involving oil/gas well JVs.
Since 2010, obtained several multimillion-dollar settlement amounts for a large publicly traded developer of mixed-use projects.