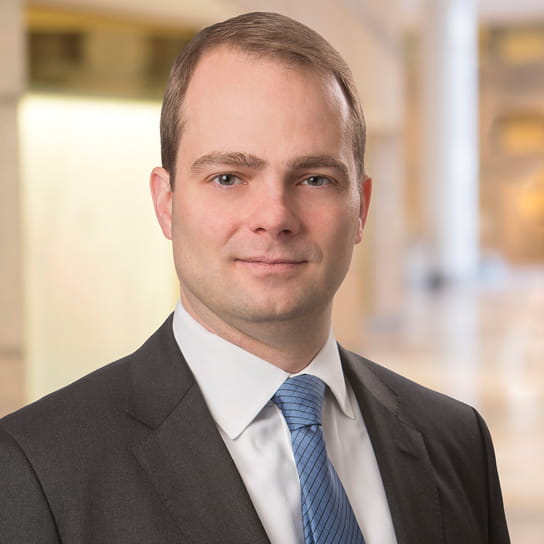 Benjamin Holt is "a very thoughtful and detailed antitrust lawyer who spots issues that others do not see."

Who's Who Legal 2022
Ben Holt litigates and resolves antitrust and competition disputes. He helps clients navigate complex antitrust issues and handle government and internal investigations.
Ben has significant experience defending class actions following governmental investigations and coordinating litigation and investigations across borders. He has also handled numerous stand-alone antitrust lawsuits and investigations covering a range of competition issues from mergers to price-fixing, and everything in between.
Ben has litigated antitrust cases on both sides of the "v" and brings this experience to his counseling practice. He regularly advises clients on antitrust and competition issues arising from business deals and disputes and provides counseling on compliance with federal and state antitrust laws. He has experience in a wide range of industries, but has focused most of his work on financial services, automotive, and health care.
Ben has published a variety of articles on antitrust and antitrust litigation topics and regularly presents to clients and others on developments in the field and relevant antitrust topics such as antitrust compliance for trade associations and strategies to defend antitrust class actions. He is the co-editor of Global Competition Review's "Private Litigation Know How" publication and the co-author of Antitrust Compliance, published by Bloomberg BNA as part of the Corporate Practice series. Ben also serves as an adjunct professor at Georgetown University Law Center, teaching a seminar on antitrust practice and writing.
Benjamin Holt is "a very thoughtful and detailed antitrust lawyer who spots issues that others do not see."

Who's Who Legal 2022
Representative experience
Represent Credit Suisse in class actions alleging conspiracy by the world's largest banks to restrict competition and raise the price of CDS trading.
Represent Daimler Trucks North America in class actions alleging conspiracy by truck OEMs and transmission supplier to exclude a competitor.
Represented Ford Motor Company in antitrust litigation pursuing claims against polyurethane foam manufacturers who allegedly conspired to fix prices.
Represent two associations of medical professionals in antitrust class action alleging conspiracy to fix the value of payments to human egg donors.
Obtained dismissal of FTC challenge to merger of two laboratory services providers; named litigation of the year by Global Competition Review.
Obtained summary judgment for UnitedHealth Group in antitrust suit alleging that competitors conspired prior to merger.
Provide counseling to several automotive OEMs on all aspects of U.S. antitrust law.
Education
J.D., Georgetown University Law Center, magna cum laude, 2002
B.A., University of Virginia, 1997
Bar admissions and qualifications
District of Columbia
Virginia
Court admissions
District of Columbia Court of Appeals
Supreme Court of Virginia
U.S. Court of Appeals, Sixth Circuit
U.S. District Court, District of Columbia
U.S. District Court, Eastern District of Michigan
U.S. District Court, Eastern District of Virginia
Memberships
Member, ABA, Antitrust Law Section
Member, ABA, Litigation Section
Antitrust: Civil Litigation/Class Actions
Legal 500 US
2016-2022
Hogan Lovells Events
16 March 2022 | 12:00 PM - 1:00 PM (EDT)