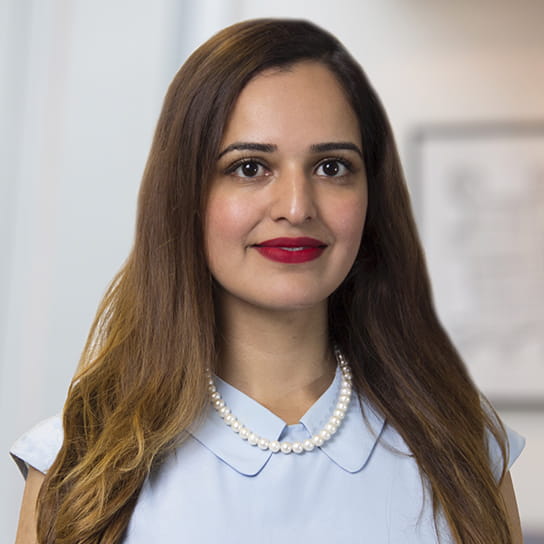 Zara Asif
Senior Associate, London
Versatility. Cross finance practice area capability. Continuous exposure to a wide variety of jurisdictions and regulatory frameworks. A deep desire to get to the bottom of her clients' problems and find innovative and creative solutions.
Zara Asif is a senior associate in our asset finance practice, who regularly acts for asset financing banks, borrowers, leasing companies and operators on a range of cross-border financing, leasing and sale and purchase transactions in the aviation sector. Her varied experience to date, having trained and/or practiced law in London, Dubai, Singapore and Paris, has meant that she has a strong appreciation of clients' needs in a variety of contexts, taking a pragmatic and commercial approach towards deal execution.
Her experience extends across other financing and restructuring work, including non-aviation asset classes, trade and commodity finance, project financing, general corporate bilateral and syndicated lending and Islamic financing and derivatives, making her a lawyer with a strong financial and analytical grounding, and the skills needed to close aviation transactions efficiently and seamlessly within a multi-jurisdictional context.
Education and admissions
Education
BA Jurisprudence, Balliol Oxford
Representative experience
Advising DVB and its co-investor on a US$400 million warehouse facility with Deutsche Bank for the acquisition of a portfolio of over 20 aircraft
Advising Norwegian Air Shuttle ASA on several transactions, including most recently an enhanced equipment trust certificate (EETC) financing of ten new B737-800 aircraft
Advising Lombard North Central Plc as lender on a US$100 million term loan facility for Waypoint Leasing, the largest independent global helicopter leasing company
Advising Pembroke Capital on a sale and lease novation transaction relating to two aircraft on lease to South African Airways
Advising UBS AG on the financings of several corporate aircraft
Advising GE Capital on various aircraft hire purchase, financing and disposals of aircraft
Advising Etihad Airways PJSC as operator in connection with a JOLCO financing of two B787-9 aircraft
Advising DVB Bank/Deucalion on engine sale transactions
Advising Jackson Square on three sale and leaseback transactions involving flydubai
Advising Dubai World Group on its US$25 billion debt restructuring involving, among other things, sales of aircraft held by its aircraft management subsidiaries
Advising various banks and UAE airlines in relation to the UAE law aspects of aircraft financing on 25+ aircraft deliveries
*Matter handled prior to joining Hogan Lovells.