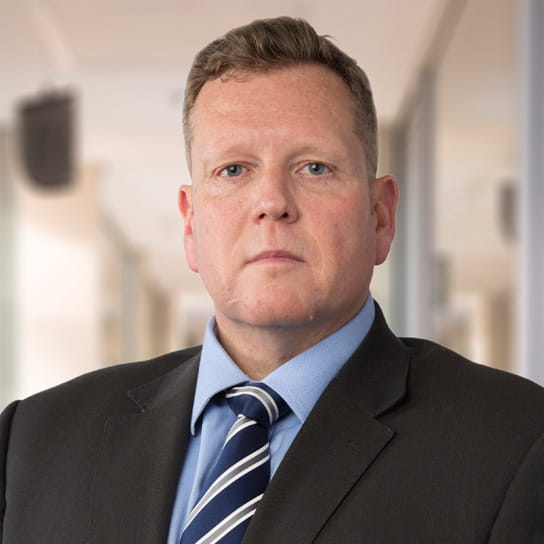 Warren Beech is acknowledged by sources as an authority on mining-related environmental matters. He is described by one market commentator as a lawyer who is 'personable, approachable and always available, as well as forever thinking ahead about possible curveballs - that's where he gives his value-add'.

Chambers Global
A well-known figure in the mining industry, Warren Beech's advice is sought by mining companies and government alike. He is frequently seen on TV and quoted in the media on issues facing the mining industry in South Africa.
Warren provides multi-disciplinary legal and related services, primarily to the mining, construction and engineering industries. This includes health and safety, environmental, commercial, litigation, criminal and employment law advice, as well as training, auditing and consulting services.
He consults locally and internationally, and has represented mining and non-mining companies in more than 1800 fatal inquiries and inquests arising out of incidents and accidents. He has conducted inquiries in terms of the Mine Health and Safety Act and the Occupational Health and Safety Act for many clients.
Recognised for his contribution to the mining industry by several industry bodies, including associations affiliated to the Minerals Council, he has participated in various industry-specific bodies on developments, including legislative amendments, at the request of the regulators and clients.
As the Hogan Lovells Global Head for the Mining Sub-Sector of the ENRG Sector, Warren is a frequent speaker at local and international seminars and conferences.
Warren is recognised as a leading practitioner in the mining sector by Legal 500, Chambers, Best Lawyers, IFLR 1000, among others.
Awards and recognitions
2010-2019
Recommended for Mining Health & Safety
Chambers Global
2017-2019
Recommended for Environment
Chambers Global
2010-2015
International and SA Who's Who Legal: Business – Mining and Natural Resources

2014-2015
Recommended in Legal 500

2015
Who's Who: Environment

2009-2019
Recognised
The Best Lawyers of South Africa for Mining
2017-2019
"Highly regarded"
IFLR1000 : Energy and Infrastructure
2013 & 2017
Hogan Lovells (South Africa) Partner Spokesperson of the Year

Education and admissions
Education
Accredited Health, Safety & Environmental Auditor
B.A LLB, University of the Witwatersrand
Diploma in Employee Benefits, Mandela Institute
LL.M., University of South Africa
Court admissions
South Africa
Representative experience
Advised South32 Aluminium SA on all regulatory and environmental aspects associated with the closure of its Bayside Operations.
Advised South32 Coal Holdings SA Proprietary Limited on numerous environmental and compliance matters, including management of waste facilities on its various operations.
Acted for Sail Minerals in its acquisitions of 100% of the issued share capital Smokey Hills Plantinum Mining Mauritius from African Thunder Plantinum.
Acted for Northern Coal in the disposal of 100% of its issued share capital to Msobo Coal.
Acting for Glencore South Africa's Alloys Division in the separation and de-linking of two operating smelters (Wonderkop and Boshoek).
Acting for Lonmin Group in six fatal accidents at its various mining operations, including representation at investigations and advice on various legal issues.
Acting for South32 SA Coal Holdings in the unbundling of the global assets of BHP Billiton ensuring environmental authorisations remain in full force and effect.
Advising Samancor Manganese on environmental and compliance aspects at its Metalloys operations including replacement of Pelletising Plant with agglomeration technology.