Tarek Eltumi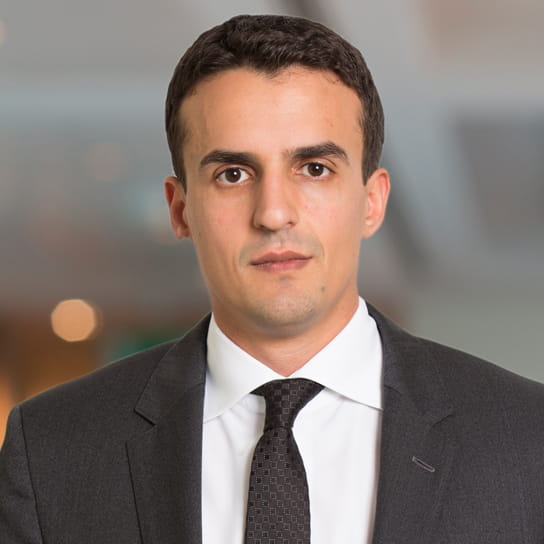 Languages
English, Arabic
Tarek is a dual Libyan/New York qualified lawyer with a broad practice that covers general corporate and commercial matters (foreign direct investment, joint ventures, restructurings), project development, finance and dispute resolution. He works principally in the sovereign wealth, energy, infrastructure and telecommunications sectors, with a geographic focus mainly on Libya and North Africa, but also on Europe and Sub-Saharan Africa more generally.
Tarek practised in Tripoli, Libya for just under 10 years where he advised on a range of innovative international finance deals and major infrastructure, oil and gas and tourism projects. Tarek went on to work as General Counsel of AECOM Libya Housing and Infrastructure Inc., where he handled legal issues arising from the US$55bn Libyan Housing and Infrastructure Program. During the 2011 uprising, Tarek served as special advisor and member of staff of the Prime Minister of Libya appointed by the then National Transitional Council. Tarek joined Hogan Lovells in our Dubai office in 2012 where he spent time working on GCC based infrastructure projects and disputes. Tarek is now based in our London office as a partner in the Infrastructure, Energy, Resources and Projects practice.
Tarek speaks English and Arabic fluently, and is widely published on matters of Libyan law.
Representative experience
A major Libyan sovereign entity on the restructuring of a multi-billion dollar investment portfolio.
A major Libyan sovereign entity in relation to several high profile disputes before the English High Court.
A major Libyan sovereign entity on a multi-million dollar dispute before the ICC in Paris.
A major European bank on the first ship acquisition finance in Libya.
A major international bank on the sale of fixed income products to Libyan sovereign buyers.
A major oil and gas corporation on the suspension of its EPSA IV obligations following the 2011 uprising in Libya.
A major international bank on the first limited recourse project finance of a hotel in Libya.
2015
Chambers & Partners, Expert Based Abroad (Libya)
2015
Legal 500 US,Libya
Legal 500
2007-2009
Up & Coming Lawyer - Libya
Legal 500
2007 - 2009
Chambers & Partners, Notable Mentions - Libya
Latest thinking and events
Hogan Lovells Publications
Hogan Lovells Publications
Published Works
"International Bank and Other Guarantees Handbook – Middle East and Africa Volume", co-author of the Libya chapter
Wolters Luwer Law & Business
Published Works
"Libya: A Guide to Commercial Law, Banking Law and Accounting", (contributing author)
GMB Publishing
Publications
"Middle East Year in Review: Libya" (co-author)
The International Lawyer, Vol. 42, No. 2, Summer 2008