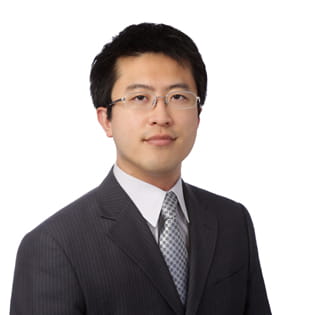 Roy Liu focuses on navigating global traders and investors through a variety of complex U.S. regulatory hurdles. His areas of practice include U.S. export controls and economic sanctions, reviews and investigations by the Committee on Foreign Investment in the U.S. (CFIUS), Foreign Corrupt Practices Act (FCPA) compliance, anti-money laundering (AML) compliance, and U.S. Customs and Border Protection (CBP) regulations. Roy has vast experience in regulatory due diligence and notification requirements in cross-border M&A transactions.
Roy was ranked as a "highly recommended" international trade attorney by WorldECR in July 2017 and was a featured lawyer of a major editorial on the U.S.-China trade relationship published by the China Business Law Journal in May 2017. He has published a number of articles on trade and trade law in both English and Chinese in journals and news outlets such as the WorldECR, Asia Times, Intelligeast, and the Tulane International Law and Comparative Law Journal.
Roy is a recognized professional on U.S. investment and trade regulatory issues related to China. Roy has represented U.S., Chinese, and other companies both before U.S. government authorities and, in cooperation with Chinese lawyers, before Chinese government authorities. He has experience dealing with challenging issues such as those related to the Entity List and restricted parties lists (aka "U.S. blacklists" in China), obtaining CFIUS clearance for M&A transactions involving Chinese investments, mitigating FCPA risks unique to China, customs valuation for intracompany sales, AML compliance issues for banks and casinos, and anti-dumping/countervailing duties (AD/CVD) safeguard actions against companies operating in China.
While at Stanford University Law School, Roy was an articles editor of the Stanford Law Review.
Awards and recognitions
2017
2017 Young Practitioner of the Year – Highly Commended
WorldECR Award
Education and admissions
Education
J.D., Stanford Law School, 2009
B.A., Williams College, 2006
Bar admissions and qualifications
District of Columbia
New York
Court admissions
U.S. Court of Appeals, Federal Circuit
U.S. Court of International Trade
Representative experience
Assisted a major publicly traded Chinese oil & gas equipment manufacturer with a U.S. export controls and sanctions enforcement action and removal from the Entity List (a US embargo backlist).
Obtained CFIUS clearance for the acquisition of a US electronics company by a major Chinese asset management company.
Assisted a major Chinese-owned financial institution with a US anti-money laundering investigation.
Assisted a major U.S. importer of tires from China with a U.S. Customs audit and claims for additional duties.
Assisting a major Chinese telecommunications company with issues arising from settlement agreement with the US Government and monitorship appointed by the US Government.
Obtained CFIUS clearance for a major Asian oil and gas company for its investment a major energy project in the U.S.
Assisted numerous Chinese companies with mitigation of U.S. export controls risk and penalties in connection with their public listing on the Hong Kong Stock Exchange.
Conducted a comprehensive FCPA investigation in China for a global pharmaceutical company that has extensive operations in China.
Procured U.S. export and deemed export licenses for unmanned aerial vehicles technology developed in the United States.
Negotiated compliance representations and warranties and conducted related due diligence for several cross-border transactions involving Fortune 500 companies.