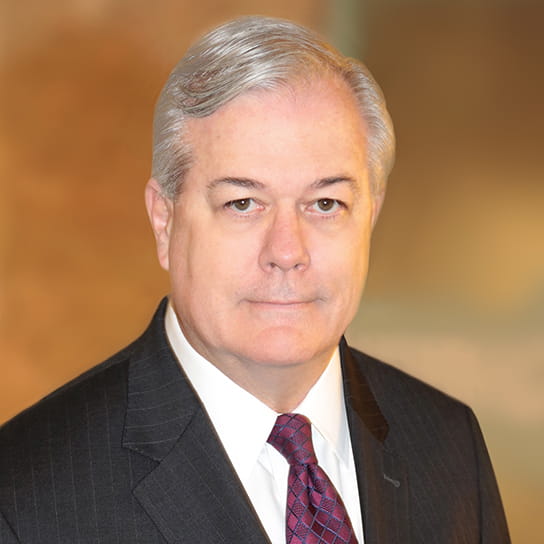 A veteran litigator, Robby Robertson attacks legal challenges with bold strategy, determination, and a laser focus on winning — qualities he likely gleaned from 10 years in the Marines.
A colleague once said, "I've been on the same side as Robby, and I've been on the opposite side ... I'd much rather be on the same side." Perhaps it's his way of controlling the facts when cross examining expert witnesses. It's no wonder he is the lead litigator for Global Competition Review's 2012 litigation case of the year.
Robby is one of a handful of lawyers who can lead antitrust litigation for any client, whether it involves defending a merger or practice against an agency challenge or defending a client in private litigation. He has had dozens of commercial or antitrust trials before federal and state courts, administrative agencies, or arbitration panels. He also represented clients in numerous investigations before the Federal Trade Commission and the U.S. DOJ Antitrust Division. His cases have focused on many industries, including health care, petroleum, airline, aerospace, automotive, chemical, technology, and many kinds of consumer products.
Robby is the former chief trial counsel for the FTC's Bureau of Competition. Among his FTC triumphs include leading the litigation team that won a preliminary injunction in the FTC v. CCC Holdings, Inc.; serving as lead trial counsel in the agency's monopolization and unfair competition case against Intel Corp.; and lead trial counsel in the standard-setting Union Oil Co. of California. He also was the lead trial counsel in the pay-for delay, monopolization case against Actavis, in which the U.S. Supreme Court ruled in favor of the FTC.
Prior to attending law school, Robby served as an officer in the U.S. Marine Corps. He is a Fellow in the American College of Trial Lawyers.
Awards and recognitions
2005-2008, 2013-2017
Antitrust (District of Columbia)
Chambers USA
2017
Antitrust: Merger Control
Legal 500 US
2016
Mergers & Acquisitions and Antitrust Trailblazers
National Law Journal
2012-2017
Competition Section
Who's Who Legal: The International Who's Who of Business Lawyers
2015-2017
Antitrust: Civil Litigation/Class Actions
Legal 500 US
2014
BTI Client Service All-Stars, Antitrust

2012-2014
Mergers, Acquisitions, and Buyouts: Antitrust
Legal 500 US
2013
Guide to the World's Leading Competition and Antitrust Lawyers
Legal Media Group
2013
Top Lawyers, Antitrust
Washingtonian Magazine
2012
Competition Lawyer
PLC which lawyers?
2012
Shortlisted, Lawyer of the Year
GCR Awards
2012
Litigation of the Year
GCR Awards
FTC Distinguished Service Award
Federal Trade Commission
Janet D. Steiger Award
Federal Trade Commission
Education and admissions
Education
J.D., with honors, Order of the Coif, The University of Chicago Law School, 1990
B.A., with distinction, Virginia Military Institute, 1977
Memberships
Fellow, American College of Trial Lawyers
The Antitrust Law Journal, Editorial Chair, 2005-2009; Co-Editorial Chair, 2009-2012; Senior Editor, 2012-present
Bar admissions and qualifications
District of Columbia
Illinois
Texas
Court admissions
U.S. Court of Appeals, Federal Circuit
U.S. Court of Appeals, 4th Circuit
U.S. Court of Appeals, 9th Circuit
U.S. Court of Appeals, 7th Circuit
U.S. Court of Appeals, 3rd Circuit
U.S. District Court, Central District of Illinois
U.S. District Court, District of Colorado
U.S. District Court, District of Columbia
U.S. District Court, Eastern District of Texas
U.S. District Court, Northern District of Illinois
U.S. District Court, Northern District of Texas
U.S. District Court, Southern District of New York
Latest thinking and events
Published Works
Judge Rules Non-Reportable, Consummated Merger Violates Antitrust Law
30 January 2014
Published Works
United States v. Widget Co., Newco, and Patent Aggregator Plus LLC; A Hypothetical Closing Argument
2014