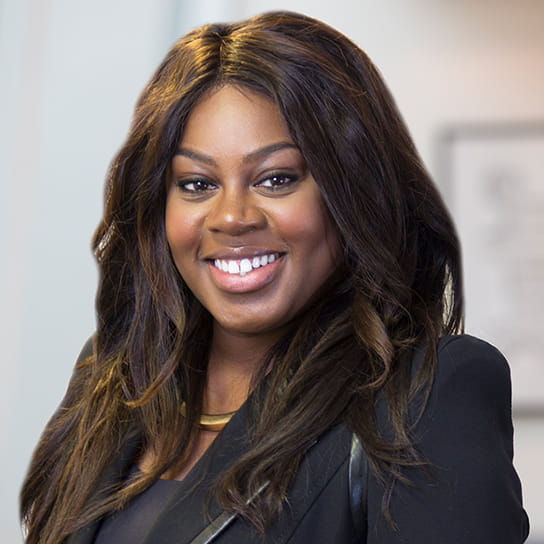 Rashida Abdulai
Senior Associate, London
Rashida Abdulai is a senior associate and Solicitor-Advocate within the Hogan Lovells International Arbitration practice. Rashida acts for multinational companies on complex, high-value international business disputes across a range of industry sectors including energy and natural resources, telecommunications, consumer goods, and banking and financial services.
Rashida is a key member of Hogan Lovells' Africa practice and has represented multinational companies in disputes arising from their operations across the continent. Rashida regularly publishes articles on important legal developments and issues of interest to businesses operating in Africa. She has participated as a speaker and panelist at a number of legal and business forums both locally and internationally.,
Rashida has been appointed to the Africa Users Groups of the Singapore International Arbitration Centre (SIAC) and the Intergovernmental Authority on Development (IGAD) Arbitration Centre Taskforce. Rashida also sits on the working committees of International Lawyers for Africa (ILFA), and the Sierra Leone UK Pro Bono Network, non-profit organisations which work to build legal excellence and foster sustainable development across Africa.
As a strong proponent of diversity and inclusion in the legal sector, Rashida is a founding member and Co-Chair of the UK's first inter-law firm diversity network, NOTICED, which is an initiative aimed at promoting 'Networking Opportunities to Integrate, Celebrate and Educate on Diversity'. Rashida is also a committee member of the Law Society's Ethnic Minority Lawyers Division and Co-Chair of Hogan Lovells' Multicultural Network, which was listed as one of the Top 10 Ethnicity Employee Networks by the Global Diversity List in 2015.
Awards and recognitions
2015
Winner, Rising Stars in Law, We are the City

Education and admissions
Education
LL.M., New York University, 2007
LL.B., King's College London, 2005
Memberships
Arbitral Women
ICC Young Arbitrators Forum
LCIA Young International Arbitration Group
Court admissions
Higher Rights of Audience (Civil Proceedings)
Representative experience
Representing a major international automotive company in an ICC arbitration against another international automotive company in a breach of contract dispute.
Representing a major oil company in ICC arbitration proceedings arising out of a contract for the transportation and purchase of oil in Gabon.
Representing a major international brewer in an LCIA arbitration against a Tanzanian competitor in breach of contract dispute.
Advising a major oil company in a dispute with an electrical engineering company concerning a control system on a platform in the UK North Sea.
Representing an international oil and gas services company in English commercial court proceedings concerning a contract for the management of oil rigs in Angola.
Assisting a major international oil and gas company in multiple disputes concerning price review provisions in German gas contracts.
Representing a multinational telecommunications manufacturer in ICC arbitration proceedings concerning royalty payments under a licence agreement.
Acting for the sellers of Romania's largest cable network operators in ICC arbitration proceedings arising from the sale and purchase agreement.
Providing strategic advice to a major international brewer in a dispute arising from a joint venture in Kenya with another international beverage company.