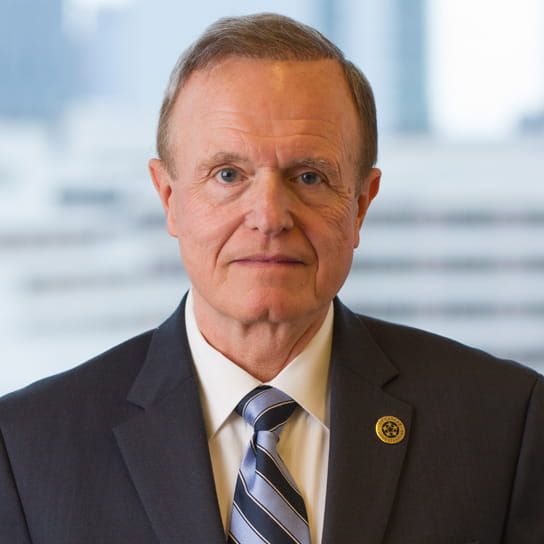 Philip Porter cut his legal teeth on software license deals in the early 1980s, when most people had only a vague idea about computers and no clue about software. A few years later, he was negotiating ownership of inventions made during clinical trials at a time when contracts did not address ownership. Before the rest of us had heard of the World Wide Web, Phil was writing website development agreements and auditing client websites for compliance with rapidly developing laws.
Phil helps clients with commercial transactions involving technology and intellectual property. He has led a team that structured a technology outsourcing transaction valued at over US$1 billion. Phil helped an offshore university acquire one of the world's largest supercomputers and the skills they needed to operate and maintain it. He also helped put together what was believed to be the first deal between a U.S. pharmaceutical company and a Chinese research firm to co-develop compounds.
Since 2013, Phil has focused on providing pro bono assistance to a nonprofit that makes clinical trial data available for access by researchers worldwide. As part of a U.S. government program, he has conducted training for lawyers and academics from third-world countries in structuring and negotiating technology transfer transactions.
Phil has conducted Continuing Legal Education programs and development classes on technology licensing, cloud computing, outsourcing, and drug research for organizations such as Practising Law Institute, International Association of Outsourcing Professionals, American Health Law Association, National Association of College and University Attorneys, Washington Metropolitan Area Association of Corporate Counsel, and the D.C. Bar and the Virginia Bar Association.
Chambers USA, has recognized Phil each year since 2005.
Awards and recognitions
2015-2016
Washington, D.C. Super Lawyers

2006-2010, 2014-2016
Business and Corporate
Virginia Super Lawyers
2007
Top 100
Washington, D.C. Super Lawyers
2007-2010
Information Technology/Outsourcing
Washington, D.C. Super Lawyers
2010-2012
Intellectual Property: Outsourcing
Chambers Global USA
2006-2013
Intellectual Property: Northern Virginia
Chambers USA
2001
International Who's Who of E-Commerce Lawyers

2008
Top Attorneys in Intellectual Property, Franchise and Dealership, Information Technology, and Civil Litigation Defense
Super Lawyers, Corporate Counsel Edition
2006
"Legal Elite" for Intellectual Property Law
Virginia Business Magazine
2005-2006
Who's Who in American Law

2006-2013
Outsourcing: Nationwide
Chambers USA
2012
Leading Lawyer Awards
Lawyers World
2013-2014
Media, Technology and Telecoms: Technology: Outsourcing
Legal 500 US
2013
Media, Technology and Telecoms: Technology: Transactions
Legal 500 US
2014
Top Attorneys in Business/Corporate
Super Lawyers, Business Edition
Education and admissions
Education
J.D., University of South Carolina, 1982
M.Ed., University of South Carolina, 1974
B.A., Canisius College, 1969
Memberships
Member, Computer and Telecommunications Law Section, District of Columbia Bar
Member, Computer Law Association
Member, National Association of College and University Attorneys
Bar admissions and qualifications
District of Columbia
Virginia
Representative experience
Led team that negotiated and drafted the contract for a global technology outsourcing transaction worth approximately US$1.1bn over a 10-year term.
Lead counsel for a large mid-Atlantic bank and trust company in outsourcing its information technology services.
Represented numerous pharmaceutical companies in negotiating clinical trial agreements with universities and other research institutions.
Negotiated outsourcing transactions for human resources and payroll services for a global facilities management company and U.S. senior care company.
Negotiated cloud computing transaction that provides more than 5,000 users with remote access to Microsoft productivity applications.
Prepared data provider and data user agreements for online repository of clinical trial data.
Negotiated predictive claims data analysis and data modeling agreements for property and casualty insurer.
Led team that negotiated and drafted the contract for acquisition by an offshore of one of the world's largest supercomputers and related training.