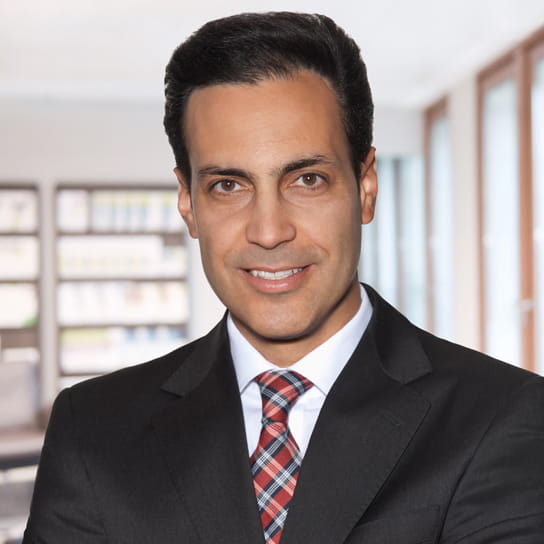 Dr. Patrick Ayad, M.Jur. (Oxford)
Partner, Munich
"a leading expert for automotive distribution matters and automotive sector work in general"

Legal 500, 2018
Patrick Ayad runs your business from a legal perspective. He is a global leading practitioner on international contract drafting, procurement and distribution, as well as an experienced regulatory advisor. Within more than 15 years he has gained considerable knowledge on commercial and regulatory matters, advising global companies particularly in the industrial and consumer goods industry sectors.
Patrick heads the global "Industry Sector Group Automotive and Mobility" at Hogan Lovells. He also heads the German Commercial practice and is on the leadership team of the global Commercial practice. Patrick is highly renowned in the areas of international contract drafting, procurement and distribution, as well as regulatory issues such as environment and international trade. He is a leading individual in the area of commercial contracts as well as distribution and trade law in all relevant directories (Chambers, JUVE, Legal 500).
According to recent sources, Patrick is "one of the top commercial lawyers… His leading of negotiations and advice is always appropriate to the situation" (Chambers Europe, 2017). He is "hailed as a leading figure in the market who is characterised by 'his practical new ideas and pragmatic approach'" (Chambers Europe, 2018). He is "outstanding" and for every issue he has a "pro-active, innovative advisory approach" (JUVE, 2016/2017). Patrick has an "excellent reputation in the automotive sector" (JUVE, 2017/2018) and is known "as a leading expert for automotive distribution matters and automotive sector work in general" (Legal 500, 2018).
Awards and recognitions
2017/2018
Leading lawyer for trade and distribution law
Legal 500
2015–2018
Top ranked for Commercial Contracts in Germany – Band 1
Chambers Europe
2015–2018
Leading name for distribution law
JUVE handbook
2011–2018
Frequently recommended lawyer for Distribution, Trade, Logistics
JUVE handbook
2017/2018
Most Recommended Lawyer for Contract Law Kanzleimonitor
Kanzleimonitor
Education and admissions
Education
Dr. iur., LMU Munich (Ludwig-Maximilians-Universität München), 2005
M.Jur., University of Oxford, 2004
Dipl. iur., LMU Munich (Ludwig-Maximilians-Universität München), 1997
Representative experience
Advising worldwide leading automotive companies on commercial contracts for development, procurement, supply and distribution, including restructuring and termination.
Advising several market leaders for consumer electronics on standard contracts for global use (procurement, supply, distribution, license, transport and logistics).
Advising various global leading companies for consumer, industrial and technology products on a variety of regulatory and product compliance matters.
Advising Daimler AG on a mobility joint venture with BMW.
Advising Daimler on its investment in Volocopter.
Advising worldwide leading automotive companies on mobile source regulations (including emissions reviews and investigations).
Advising several automotive manufacturers (OEMs) on various innovative new distribution models (including direct and online distribution).
Advising worldwide leading aerospace and defense companies on global model contracts and major contract projects (including contract negotiations).
Advising worldwide leading automotive companies on other regulatory matters.
Latest thinking and events