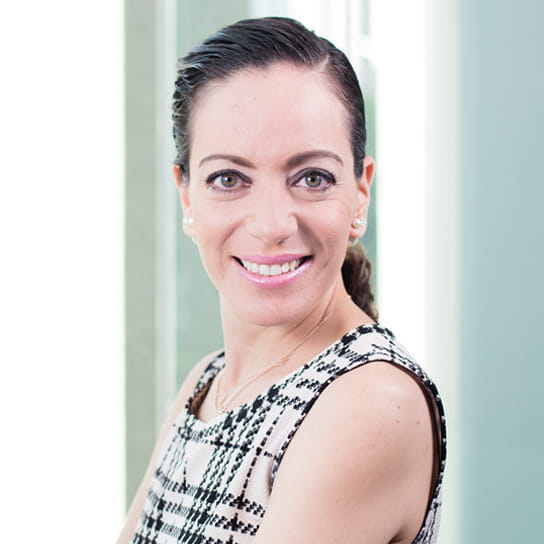 Maria Aldonza Sakar Almirante
Senior Associate, Mexico City
Aldonza Sakar's professional goal is to identify her clients' main interests and needs, and structure their transactions accordingly. She focuses on optimizing her clients' market position and avoiding material and/or relevant risks to their interests.
Aldonza focuses on structured finance, banking, and corporate law. She is highly proficient in credit transactions, including collateral agreements and mergers and acquisitions, as well as securitization transactions. She is highly communicative, open, and attentive to the needs of her clients, so that she can provide concrete and customized solutions.
Over the last 13 years, she has worked in the finance area for Hogan Lovells, as well as other prestigious international law firms, always identifying and solving the needs and interests of her clients related to corporate and finance restructures, including M&A transactions.
Aldonza obtained her law degree from the Escuela Libre de Derecho (ranked in the top three law schools in Mexico City), and has obtained several law certificates from postgraduate and professional studies at the Escuela Libre de Derecho and the Universidad Iberoamericana.
Education and admissions
Education
J.D., Escuela Libre de Derecho, 2004
Representative experience
Structuring and documentation of all types of leasing operations, including security and collateral agreements.*
Structuring and formalization of aircraft, watercraft, and real estate operations.*
Negotiation and formalization of facility agreements with credit institutions.*
Issuance and placement of subordinated preferred and non-preferred obligations as well as perpetual obligations of credit institutions.*
Legal risk and compliance audits of credit institutions, shares and assets sale-purchase agreements, and statutory audits for these purposes.*
Negotiate and formalize corporate restructures including merger and acquisitions for corporate governance clients.*
Implementation and monitoring of legal audits. Compliance with global standards, legal risks, and relevant legal provisions.*
Implementation of covenants and global standards (FATCA) in contracts.*
Structuring and documentation of credit transactions, unionized facility agreements, including collateral and security agreements.*
Focused and participated in structured finance, securitization, public offerings, and mergers and acquisitions.
*Matter handled prior to joining Hogan Lovells.