Luigi Mansani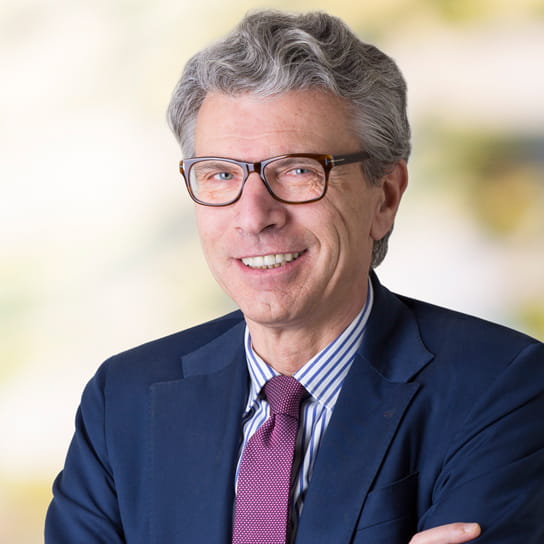 Languages
English, Italian, French
Practice Group
Intellectual Property
In a market traditionally dominated by boutiques headed by academics, Luigi Mansani offers the unique combination of heading the IP practice of an International Law Firm being a university professor. Well known by judges, respected by colleagues, loved by clients for his 25 years' experience in handling the most complex matters and for his academic profile, Luigi is one of the major stars in Italian IP.
This is confirmed by his first-tier ranking in all major directories and the large number of awards received. Educated by 20 years of teaching in an Economic Faculty to be always focused on the business effects of legal strategies, Luigi is a maniac for quality in all details and a recognised market leader in litigation and arbitration. An Internet geek from the very beginning, Luigi has a true love for IP, nourished also by his zest for contemporary arts and design.
Best Italian IP Lawyer of the year: Design and Lifesciences
Clients agree that Luigi Mansani 'is able to solve difficult issues and always obtains very good results.'
Representative experience
Continuous assistance to the Frau Group in the worldwide management of the IP portfolio of companies of the group (Cassina, Cap Design, Poltrona Frau)
Successfully assisting PepsiCo in a dispute regarding their major chips brand in Italy
Assisting Expo 2015 in ambush advertising disputes
Assisting Estée Lauder before the Italian Supreme Court in a highly profile case concerning the 'CLINIQUE' trademark
Assistance to Benetton, Prada, H&M, Caterpillar in trademark disputes
Acting as counsel of one the world's largest U.S. winemakers in various trademark matters and regulatory issues concerning the advertisement of wine products
Assisting an American coffeehouse chain in connection with the management of its Italian trademark portfolio and in opposition disputes against potential infringers
Advising Google in a number of copyrights and trademark matters
Assisting Edenred SA in various nullity proceedings brought by Repas Lunch to seek the invalidity of the "Ticket Restaurant" and other "Ticket" trademarks
Assisting PepsiCo in a dispute involving trademark infringement, unfair competition, "look-alike", misleading advertising and "ambush marketing" claims
Continued assistance to the leading telecommunication company Deutsche Telekom AG in several trademarks and domain names matters, as well as in related opposition proceedings
Assisting Dell on the new rules on copyright levies in coordination with Hogan Lovells' teams in other European jurisdictions
2017
Luigi Mansani's 'deep experience is clear' to see
Legal 500 EMEA
2017
One impressed client says: "He can promptly understand the needs of the company and provide us with a strategic view. He has a pragmatic approach, is easy to work with and always available."
Chambers Global
2014 & 2016
IP Lawyer of the Year
Legalcommunity Awards
2016
IP Star for 2016
Managing Intellectual Property
2015
Clients agree that Luigi Mansani "is able to solve difficult issues and always obtains very good results."
Chambers Europe
2014
I appreciate Luigi's technical know-how and his timely responses and support. He is sophisticated and a brilliant strategist
ILO Client Choice
2014
Market observers view Luigi Mansani as an excellent patent litigator with vast experience in all areas of IP such as trade marks, copyright and unfair competition. His high-calibre clientele also instruct him on non-contentious matters.
Chambers Europe
2014
Head of the IP practice Luigi Mansani is "simply excellent"
World Trademark Review
Latest thinking and events
Hogan Lovells Publications
Hogan Lovells Publications
Hogan Lovells Publications
Intellectual Property Alert