Joseph G. Krauss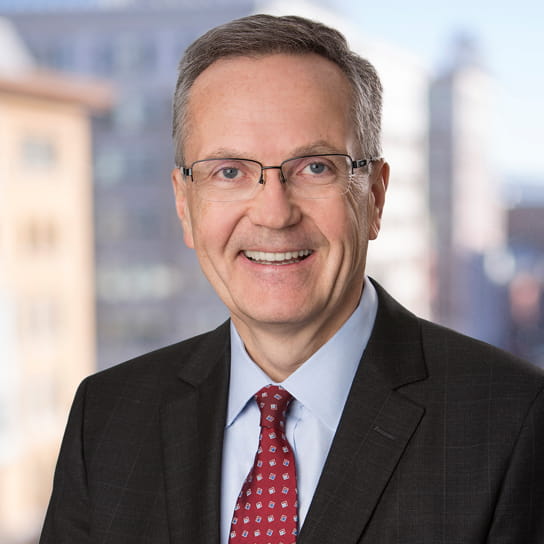 Practice Group
Regulatory
Joe Krauss is among the leaders in advising clients on antitrust issues and requirements raised by their M&A transactions. With over 30 years of experience, including one third of it with the U.S. government, Joe brings not only a wealth of knowledge and experience to his role at Hogan Lovells, but vision as well — anticipating and helping clients solve a range of cutting-edge challenges so they can get their deals done quickly and efficiently.
Joe has advised clients on large and small deals, in the U.S., as well as international, and deals in a wide range of industries. He knows that the best way to advocate for your deal is to know your business — how it works and "what makes it tick" — and to know your industry. He brings a practical eye to find the best facts and legal arguments that will get your deal cleared with as minimal interference and delay as possible.
Joe is plugged into antitrust policy-makers through his 11 years at the U.S. Federal Trade Commission, and knows the pulse of how agency staff and management are viewing transactions. He is trusted by the agencies — staff and management know him and know that he is a straight-shooter. Joe is regularly asked to assist or opine on proposed policy changes — he was called on to comment on the 2010 Horizontal Merger Guidelines before they were adopted, and has been asked by the DOJ to serve as divestiture trustee.
Joe is also plugged into international merger enforcement and antitrust policy, and has been invited to speak at numerous conferences around the world and has assisted competition agencies in several countries in their development and enforcement of antitrust law and policy. Joe is a nongovernmental advisor to the Mergers Working Group of the International Competition Network (ICN).
"[F]ocused and dedicated."
"[A] really, really sharp lawyer."
Representative experience
Advised Alstom SA with respect to competition issues raised by its US$ 14bn merger with General Electric.
Advised Orbital Sciences in its US$4bn merger with ATK.
Counsel to HarperCollins Publishing in its acquisitions of Harlequin Publishing and Thomas Nelson Publishing.
Counsel to S1 Corporation in its merger with ACI Worldwide, Inc.
Counsel to General Dynamics Corporation in multiple defense industry acquisitions and investigations.
Counsel to Anschutz Entertainment Group in the DOJ investigation of the merger of Ticketmaster and LiveNation.
Counsel to Laboratory Corporation of America in numerous acquisitions, including those of Westcliff Laboratories, and Orchid Cellmark, Inc.
Airbus Group in its joint venture with OneWeb.
2012-2017
Antitrust (District of Columbia)
Chambers USA
2010-2017
Antitrust Law
The Best Lawyers in America
2016
Antitrust: Merger Control
Legal 500 US
2012-2014
Guide to the World's Leading Competition and Antitrust Lawyers
Legal Media Group
2012-2013
Mergers, Acquisitions, and Buyouts: Antitrust
Legal 500 US
2012
"Recommended" Competition Lawyer
PLC Competition Law
2012-2013
Antitrust Litigation
Washington, D.C. Super Lawyers
2012-2013
The International Who's Who of Competition Lawyers and Economists
Who's Who Legal
Latest thinking and events
Hogan Lovells Publications
Antitrust and Competition Alert
Hogan Lovells Publications
Antitrust and Competition Alert
Hogan Lovells Publications
Antitrust Competition and Economic Regulation Alert
Hogan Lovells Publications
Antitrust, Competition and Economic Regulation Alert