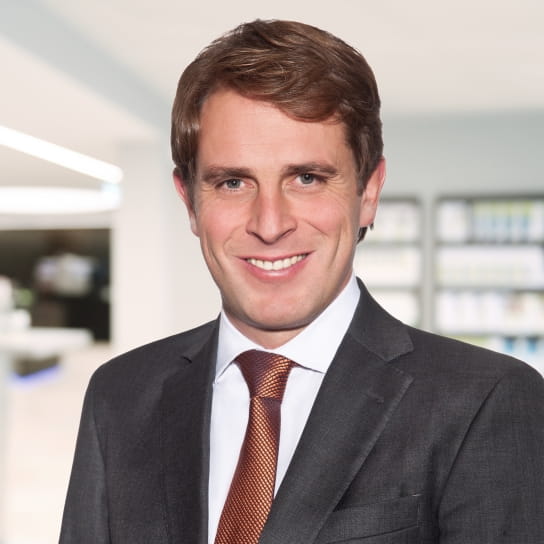 Dr. Florian Unseld, LL.M. (Sydney)
PartnerMunich
Florian Unseld has his finger on the pulse of your operative business. Whether it is about implementing innovative procurement or distribution ideas, entering into new markets, redefining operative processes or legally designing other commercial ideas – Florian finds economic, pragmatic and creative solutions for you. He advises particularly in the consumer goods, industrial goods and logistics sectors.
Florian helps with all questions of national and international trade, distribution and consumer protection law, often at the interface to the IT and IP areas. He drafts and negotiates commercial contracts and represents legal interests, for example in the areas of procurement and sales, distribution, cooperation, research and development, marketing, licensing and outsourcing. In addition, he advises on related regulatory matters and in transactions.
Florian works in the commercial and regulatory practice area, after he worked in the IPMT group of Hogan Lovells from 2007 to 2011. Legal 500 Germany, 2018, lists him as a "Name of the next Generation – Distribution and Trade Law". During a secondment, Florian worked in the legal department of a global technology company. In the course of his legal education, he gained international experience in England and Wales, the U.S. and Australia.
Awards and recognitions
2018 – 2020
Name of the next generation - Trade, Distribution, Logistics
Legal 500 Germany
2020
Recommended Lawyer for Transportation Law
Legal 500 Germany
2019/2020
Recommended Lawyer for Contract Law
kanzleimonitor
Education and admissions
Education
Cardiff University
LMU Munich (Ludwig-Maximilians-Universität München)
University of Konstanz
University of Sydney
Memberships
Deutsche Gesellschaft für Vertriebsrecht e.V. (German Association for Distribution Law)
Representative experience
Advising a global manufacturer of consumer goods on the introduction of innovative, global distribution systems and the drafting of the model contract portfolio therefor.
Advising a global luxury goods company on all questions of distribution law, including the drafting and negotiation of commercial contracts (including disputes with sale and purchase, cooperation, distribution and marketing.)
Advising a global consumer goods company on the launch of an innovative online 3D printing services in various countries worldwide, including the draft of the relevant contractual documents and advice on related regulatory issues.
Advising a consumer goods company on the structuring and design of its purchasing and sales structure and on regulatory requirements within the framework of a franchise system.
Advising a premium automotive OEM on the roll out of connectivity services in more than 40 jurisdictions worldwide, including advice on the distribution system and drafting of contracts, consumer protection law and regulatory issues.
Drafting of a model contract portfolio (NDA, LoI, Development Contract, Frame Sales Agreement, T&C's) for a global premium automotive OEM.
Advising a global vehicle manufacturer on the outsourcing of a business unit as part of a joint venture, in particular with regard to the drafting and negotiation of commercial contracts for the operation of the joint venture company.
Advising a chemical company with respect to the drafting and negotiation of a high volume contract for the procurement of raw materials with a Brazilian supplier.