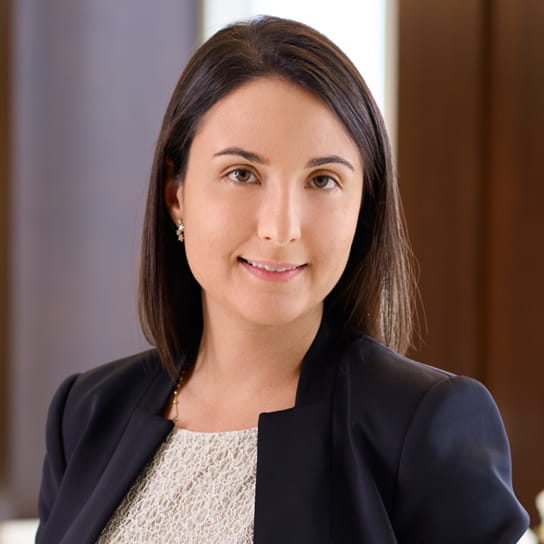 Dana M. Turjman
Asociado seniorMiami
Dana es una asociada en nuestra oficina de Miami, asesorando a clientes en materia de financiación de proyectos, energía, e infraestructura con enfoque particular en Latinoamérica. Previo a integrarse a Hogan Lovells,
Dana trabajaba como pasante en otra firma en asuntos corporativos transfronterizos y transaccionales. Durante sus estudios, Dana fue Articles and Comments Editor para University of Miami Law Review. También trabajó como asistente de investigación en temas relacionados con los derechos humanos internacionales, e internado en la Clínica de Inmigración.
Formación Académica y Admisiones
Formación Académica
J.D., University of Miami School of Law, magna cum laude, Order of the Coif, 2015
B.A., University of Michigan, 2010
Admisiones y acreditaciones profesionales
Florida
Distrito de Columbia
Experiencia destacada
Represented the Dominican affiliate of a U.S. energy company in the US$88m corporate financing of an approximately 50-km natural gas pipeline in the Dominican Republic.
Represented a U.S. renewable energy company in the acquisition of all membership interests in a company that owns and operates a wind-powered electric generation project in Texas.
Represented an independent power producer in the acquisition of membership interests in two 230-megawatt (MW) wind-powered electric generation projects.
Represented an independent power producer in connection with the sale of assets to a public utility of a wind-powered electric generating facility of approximately 66 MW.